One of Europe's most charismatic cities, Edinburgh offers a wonderful weekend escape throughout the year, with vibrant festivals and iconically Scottish celebrations providing plenty of reasons to go (as if you really needed any excuse)…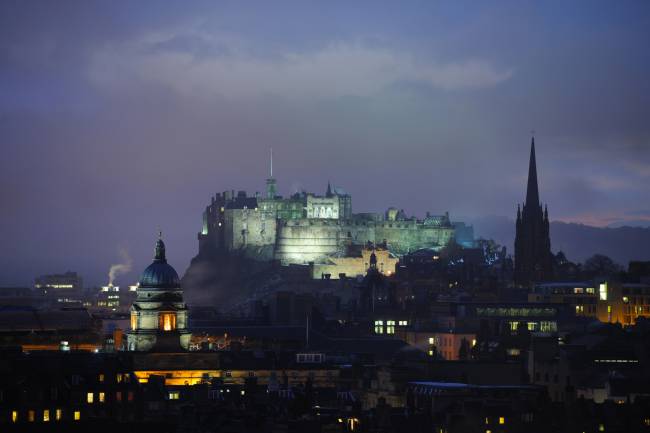 Scotland's photogenic capital rises majestically from the Firth of Forth's southern shore and its historic houses and monuments, and excellent galleries and museums, draw over one million overseas visitors every year, making it the UK's second most-visited destination after London.
While there's plenty to keep the kids entertained if you opt for a family trip (attractions aside, the city's old town even looks like The Wizarding World of Harry Potter, complete with quaint and quirky curiosity shops, lying beneath looming magical spires and gargoyles), it's also the perfect place for a romantic break for two, with its cobbled streets, iconic castle, cosy restaurants and bars, and poetic history. Here are three great reasons to go this year…
1. Burn's Night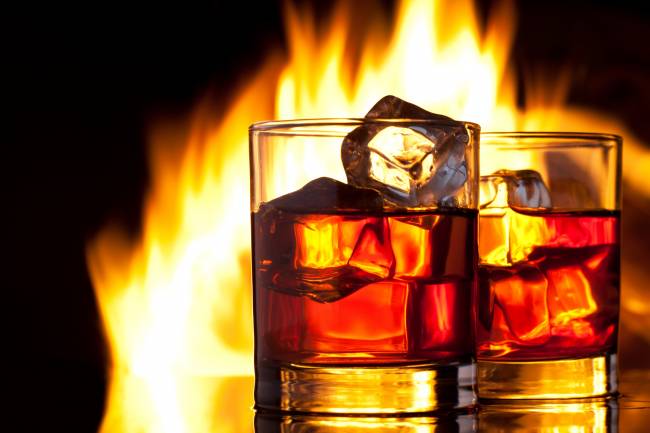 Scotland's most famous poet, Robert Burns, is celebrated around his birthday on 25th January each year, with feasting and general merriment of the whisky-drinking kind.
Burn's Night Suppers are held across the city in hotels, restaurants and drinking dens, serving 'haggis, neeps and tatties' – the traditional Scottish dish of a savoury meat pudding housed in a sheep's stomach, alongside mashed swede and potatoes (delicious veggie versions of haggis are usually on offer too).
After the Selkirk Grace is said, the haggis is piped in, with the host performing the Address to a Haggis before everyone raises a toast and dinner is served. Burn's recitals are performed with the evening ending in a rousing rendition of Auld Lang Syne.
Some bars will include a 'ceilidh' too, with traditional bands playing Gaelic music for a line-dancing crowd. Dust down your tartan and don't be afraid to join in – the Scots are a friendly, inclusive bunch on Burn's Night and you'll soon master the moves (and after a few drams, you'll be convinced you're Stripping the Willow with style in any case).
Book now for the Burn's Night Ceilidh at The Counting House – an Edinburgh inn where Robert Burns once raised a glass with poet Thomas Blacklock – featuring music from the Annasach Ceilidh Band, plus a Burn's Night Supper and complimentary dram of The Famous Grouse.
Find out more about traditional Scottish ceilidhs at ceilidhexperience.visitscotland.com
2. Edinburgh Festival

Celebrating their 70-year anniversary in 2017, Edinburgh's world-famous festivals are a must for culture-vultures, showcasing the very best in arts, comedy, theatre, books and music.
August's Edinburgh Festival Fringe, commonly known as 'The Fringe', has become the world's largest arts festival, offering thousands of performances throughout the city's multitude of performance venues, from large theatres to small pop-up arts spaces, as well as on its streets. Whether you're looking for cabaret, comedy, circus or dance, you'll find a show to suit, with the chance to discover incredible new talent and enjoy cutting edge creativity any day of the week.
Also in August, the Edinburgh International Festival offers three weeks of music, dance, opera and theatre, while the Royal Edinburgh Military Tattoo lights up iconic Edinburgh Castle with performances from the Massed Military Bands, Massed Pipes and Drums, cultural troupes and singers.
Book-lovers can bury their noses into over 750 summer events including discussions, workshops and book-signings featuring Nobel-Prize-winning authors at the Edinburgh International Book Festival, or enjoy October's Scottish International Storytelling Festival, which celebrates oral traditions and cultural diversity with performances, talks and workshops.
Find out more about Edinburgh's Festivals and book tickets for performances at edinburghfestivalcity.com
3. Hogmanay

Edinburgh's biggest party happens in December, with three days of celebration to herald the coming new year. Join the amazing Torchlight Procession that fills the city centre's streets on 30th December, creating a spectacular river of fire from the Royal Mile to the son et lumiére and fireworks display on Calton Hill.
Book your tickets early to enjoy one of the world's biggest and best street parties which takes place on New Year's Eve and includes live music, DJs, big screens and outdoor bars along Princes Street, or party at the Concert in the Gardens, which sees top bands performing against the backdrop of Edinburgh Castle before the fireworks light up the sky at midnight and the crowd joins hands for Auld Lang Syne. You'll need to book in advance for the classical Candlelit Concert at St Giles' Cathedral or to join in the Old Town Ceilidh too, which sees live Gaelic bands performing on two open-air stages in this gorgeously lit historic part of the city.
Lastly, if you're feeling brave – or need to clear your fuzzy head – join the Dookers Parade along the high street before taking the Loony Dook – a New Year's Day plunge in the icy River Forth at South Queensferry. Don't forget your fancy dress.
To find out more and book your tickets for Hogmanay 2017, go to edinburghshogmanay.com
Where to stay: Nira Caledonia
There are plenty of comfortable, modern hotels to rest your head in Edinburgh, but we much prefer the character of Nira Caledonia, a period boutique gem housed in two elegant Georgian terraced townhouses amidst the cobbled streets of New Town, just a mile from Waverley Station.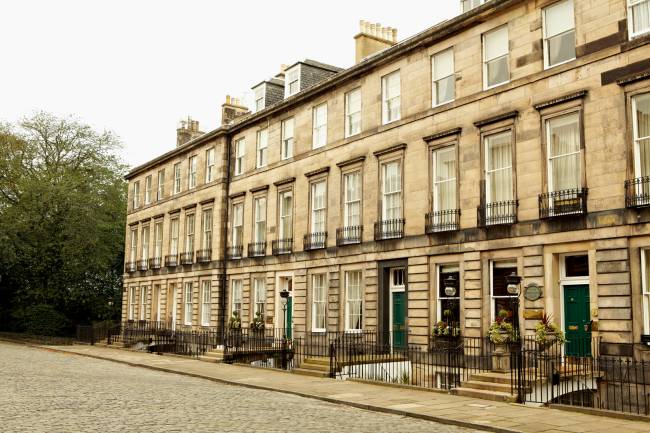 Once the home of 19th century essayist and hedonist, Christopher North, the three-storey Nira Caledonia's bohemian rooms and suites are all beautifully unique, oozing a hint of Scottish chic rather than shouting it loud with tartan.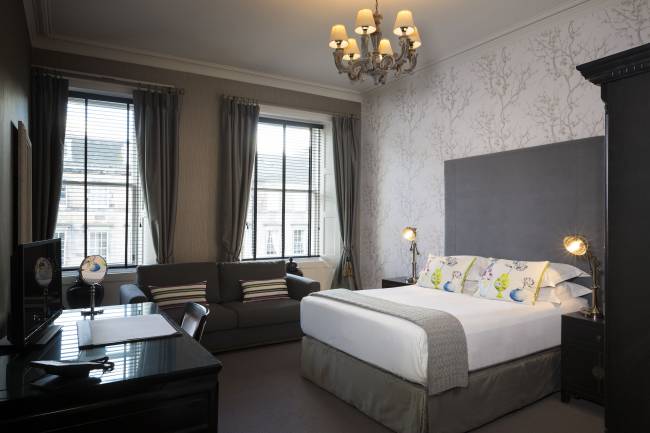 Thoughtful lighting, sprawling, infinitely sink-into-able beds, panoramic sash windows, and stylish and surprising knick-knacks combine to create a cool sanctuary of calm, while the private gardens with certain ground-floor suites conjure the illusion this could actually be home (if only for a night or two).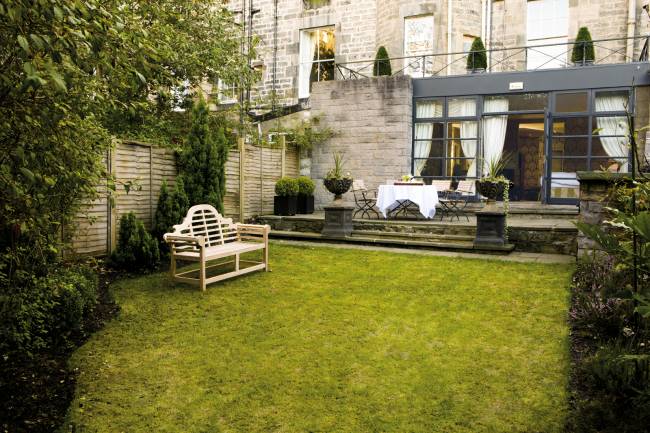 The hotel's style is backed up by substance, with flat-screen TVs, DVD players, Nespresso coffee machines, iPod docking stations, 24-hour room service and free wifi, plus friendly, unstuffy staff who thankfully know their Lothian Road from their Leith Street (our pet hate is a front desk devoid of local knowledge, but that won't be a problem here).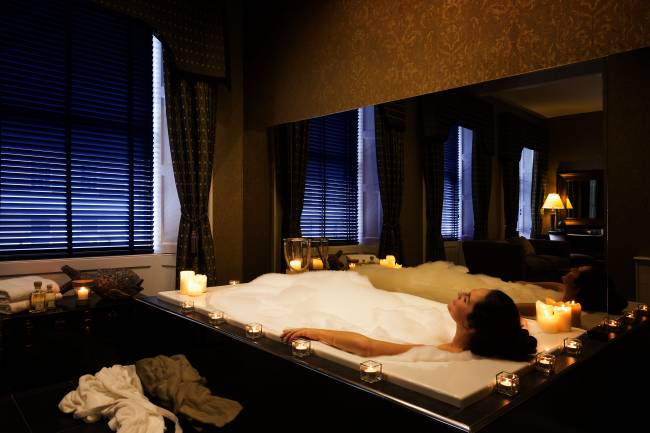 If you're celebrating something special, we'd go for one of Nira Caledonia's three Jacuzzi Suites to add some extra sparkle to your stay, and definitely book in for dinner in the hotel's wonderful Blackwood's Bar & Grill – a dark, romantic dining room where you can indulge in creative, modern Scottish cuisine cooked with fresh, local ingredients by the restaurant's aptly-named head chef, David Scott.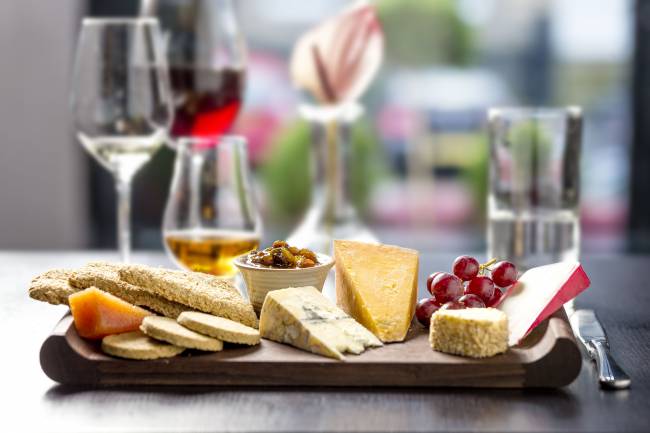 This year's Burn's Night Supper at Blackwood's will be a heady traditional feast of cock-a-leekie soup; haggis, neeps and tatties in a special whisky sauce; Scotch Beef Fillet wrapped in a mushroom Duxelle and puff pastry, and Cranachan and homemade shortbreads to finish up (£35 per person; vegetarian option available on request).
There are brownie-point menus on the horizon for Valentine's Day and Mother's Day, daily specials from the restaurant's Josper chargrill oven and a hearty Scottish breakfast on offer every day of your stay, serving generously – and sensibly – until noon at the weekend.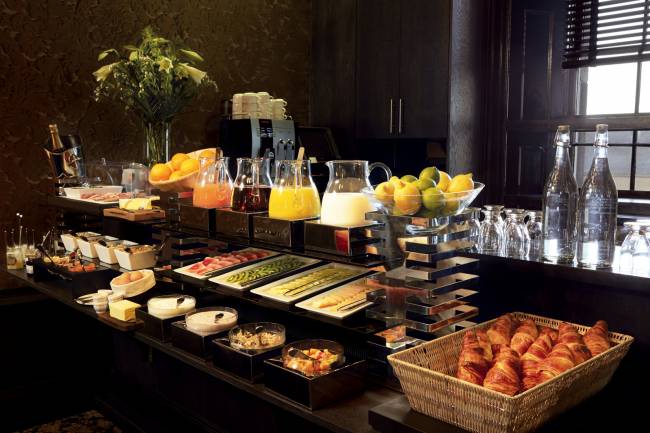 The bar is worth a visit for a wee pre- or post-dinner dram too, boasting over 30 Scotch whisky blends and single malts, along with a range of Scottish beers and ales, which can all be sampled from the comfort of the den's plush, velvet chairs. Slàinte!
Rooms at Nira Caledonia start from £129 based on two people sharing a Petite Double Room niracaledonia.com/en
Where to eat: The Witchery by the Castle

One of the most romantic restaurants in Scotland – and quite possibly the world – The Witchery at the Castle is nestled a stone's throw from the walls of Edinburgh's famous castle on the city's equally famous Royal Mile.
Former Restaurateur of the Year, James Thomson, transformed an historic sixteenth-century merchant's house into this decadent 'restaurant with rooms' in 1979, and dining here is an experience you'll never forget, thanks to its uniquely exotic gothic interiors and exquisitely prepared cuisine.
The Witchery is thrillingly theatrical from the start, as you walk through the unique pulpit reception and descend the stone staircase into a twinkling 'Secret Garden', where you're instantly transported to a warm, mystical realm, bathed in candlelight and strewn with tapestries, cherubs and flowers, with a pretty secluded outdoor terrace beyond. Upstairs, the grand, heavily oak-panelled dining room is cloaked in history, with heraldic painted ceilings and wall hangings a reminder of the building's 400-year past.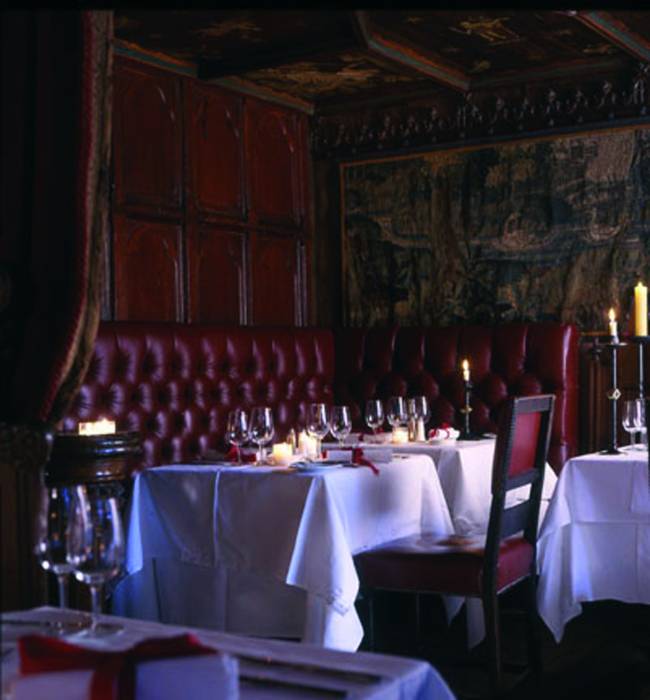 The food is delicious and elegantly understated – seasonal, local produce, well-cooked with just the right amount of flair. Seafood, fish and Scottish-reared beef is on offer, but as a vegetarian, I opt for a deliciously creamy garden pea velouté with well-matched, heavy Anster scones, followed by a tangy parmesan tart with burrata, lemon pesto and rocket: a pre-planned lighter choice which cunningly left room for the debauched Witchery Pudding Selection – a range of temptations including chocolate tart, opera gateaux, coconut creme brûlée, and vanilla panna cotta with pressed pineapple. All accompanied by a bottle of crisp Billecart-Salmon Brut Réserve to add some festive fizz (we're here at Christmas and everyone's allowed a little treat, right?).
If you want to feel you and your partner are the only lovers left alive, then undoubtedly this is the place. Dress up, don't talk about the kids all night, switch your mobile to silent and let the food, the wine and the irresistible romance of the place weave its magic.
Stay in one of The Witchery's nine equally as opulent suites, and you can even enjoy breakfast by candlelight too – now that's a wake-up call we can get on board with.
To book a table or suite at The Witchery by the Castle visit thewitchery.com and to find out more about James Thomson's The Tower, Edinburgh's leading roof-top restaurant, go to tower-restaurant.com
How to get there
Virgin Trains operates services from London Kings Cross to Edinburgh on their East Coast route, and have recently introduced several newly refurbished trains to their fleet as part of a £40 million investment. With departures every two hours, the journey takes just under six hours, with tickets starting at £30 one-way. Trains also run from Manchester, Birmingham, Liverpool, Glasgow and Blackpool.
For more information, or to make a reservation, visit virgintrainseastcoast.com