It's International Astronomy Day on 14th May – the perfect opportunity to practice your Brian Cox impression and astound your kids with your knowledge of all things extra-terrestrial. DAD.info brings you our selection of top UK stays where the light pollution won't overshadow the stars…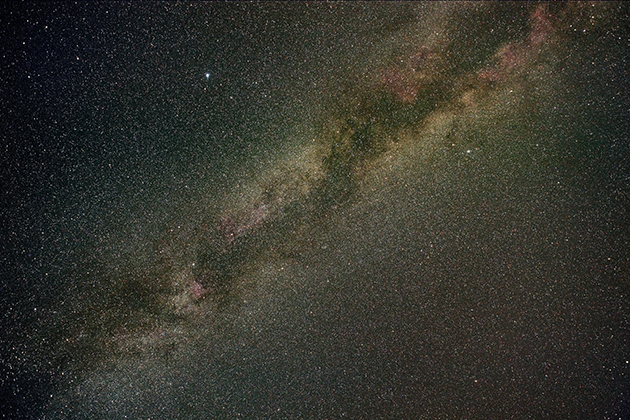 Don't you just love the autumn, when the nights draw in, the clocks go back, and your alarm goes off in the morning before the sun comes up? You can then sit in an office all day and it's nighttime again by the time you leave – heck, it's twilight by the time the kids get out of school. You see so little daylight It's a little like being a vampire… but without all the bloodlust and having to put up with Kristen Stewart's incessant whining.
Although we don't see much of the sun at this time of year, we don't see much of the stars either because it's never really that dark in most parts of the country, with office lighting, neon signs and street lamps burning all night long.
Fortunately for stargazers (and goths, alike), Dad.info has put together a selection of luxury cottages – ideal for a half-term getaway – ideally located for crystal clear views of pitch-black night skies. So stop training your telescope on the neighbours' windows and take it to the countryside to use it as the manufacturer intended.
Cheviot Holiday Cottages, Northumberland
These nine luxury properties, sleeping two to six people, are situated amid four acres of mature grounds within the Northumberland National Park.
The Northumberland National Park Authority, Kielder Water & Forest Park Development Trust and Kielder Observatory Astronomical Society were together awarded the title of Northumberland Dark Sky Park in December 2013, making this 1,500 square kilometer area Europe's largest Dark Sky Park.
Local star-gazing events are arranged by the national park and the properties are also within reach of the Kielder Observatory, where expert guidance and tuition is readily on hand.
To book, call: 01665 578236 or visit: www.premiercottages.co.uk
The Dairy, Dumfries and Galloway
From Europe's largest to the UK's first: Galloway Forest Park, in Scotland's Dumfries and Galloway area, became was the first official International Dark Sky Park in 2009, earning gold-tier status.
Near the southern boundary of the park lies The Dairy, a collection of open-plan, stone-built, terraced cottages, sitting around a picturesque courtyard, just one mile from the town of Newton Stewart, nicknamed, the 'Gateway to the Galloway Hills.' Each accommodates four guests in one single and one double room, perfect for the average family of 2.4 children (we're sure there's wardrobe space or a nook available for the leftover half-child to sleep in).
On the northern edge of the park sits the recently-built Scottish Dark Sky Observatory, for those who want to take an even closer look at the heavens above.
To book, call 01244 356666 or visit: www.sykescottages.co.uk/cottage/Ayrshire-and-Dumfries-Galloway-Creebridge/The-Dairy-26077.html
Kernock Cottages, Cornwall
Set in 25 acres of gardens and woodland in the Lynher Valley, between Dartmoor and Bodmin Moor, Kernock Cottages offer accommodation in five luxurious detached barns that are perfectly located for exploring both Devon and Cornwall. The cottages are in a 'dark skies' area with no light pollution making them ideal for a celestial stay.
Kernock Cottages also has a Celestron Astromaster 114 reflector telescope, along with planispheres and stargazing guides enabling guests to get fantastic views of the area's crystal clear skies.
For more information or to book, contact the owner on 01579 350435 or visit: www.premiercottages.co.uk
Riverside Barn, Monmouthshire
On a clear night in the Brecon Beacons, you can see the Milky Way, major constellations, bright nebulas and even meteor showers. It's enough to make anyone starry eyed.
The park has some of the highest quality dark skies in the whole of the UK and became just the fifth in the world to become an accredited International Dark Sky Reserve in 2012, making it the perfect destination for stargazers.
Set in a village location in the Brecon Beacons National Park, near Crickhowell and Abergavenny, this delightful Gilwern cottage ­– which boasts two double bedrooms, high apex beams, a games room and an lovely oak staircase, as well as a paddock area with football nets for the kids – makes a great holiday base from which to explore the area.
To book, call 01244 356666 or visit: www.sykescottages.co.uk/cottage/Herefordshire-Lower-Common/Riverside-Barn-905876.html
Coulscott House, Devon
Coulscott House offers six cottages, sleeping two to ten people, on Exmoor, which is one of the first designated dark sky reserves. The night views are fantastic from here and, because the property is a mile outside the village, there is no light pollution to ruin your views. In fact, there are also no other properties within a quarter of a mile of Coulscott, so you'll really have the sky to yourself!
There's no need to freeze your bits off either: from the comfort of one of the four hot tubs, guests can observe satellites, meteorites, the Milky Way, constellations, planets and a sky littered with stars.
Exmoor National Park is just up the hill, half a mile away and local pubs the White Horse Inn and Culbone offer nighttime star gazing trips with food.
To book, call 01271 883339 or visit: www.premiercottages.co.uk
Beechcroft, East Sussex
Beechcroft is an idyllic rural retreat offering four picturesque beamy cottages beside a lake, suitable for two to six guests.
The properties are located on a cattle-breeding farm where racehorses are trained, close to historic 1066 country with its plethora of ancient castles, renowned gardens and National Trust properties. Most importantly, they are also just down the road from the Observatory Science Centre, which is open every day until the end of November.
The six green domes of the Observatory Science Centre house historic telescopes, three of which are open to the public during the day. On open evenings and themed nights, two of the telescopes closed during daylight are opened and, weather permitting, are available for stargazing.
To book, call 01435 830316 or visit: www.premiercottages.co.uk