Ben Falk and his father Quentin venture beyond the south coast to swing a club and do some downward dog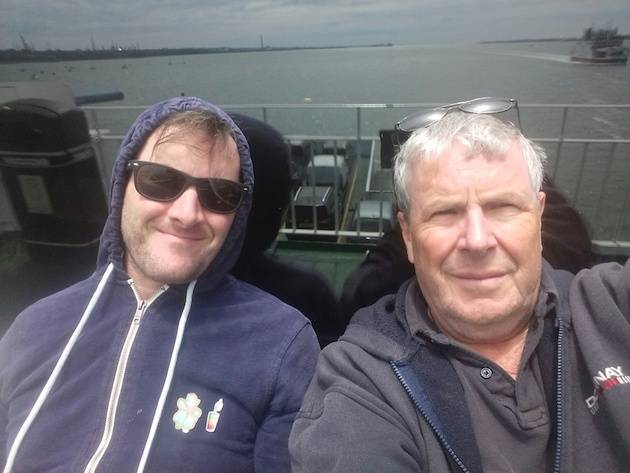 It's weird, going on holiday with your parents. You have to do it when you're younger – unless you're a really adventurous 10-year-old who doesn't mind a week in Spain on your own – and then there's a long period when the idea of it fills you with absolute horror.
That changes when you're a dad. Finally, you understand a little more about what your father might have gone through when you were little and if, like me, you're lucky enough to have a good relationship, it's nice to be able to spend some time away by yourselves, doing man stuff. Or at least being men and doing stuff.
In my dad Quentin and my case, that meant going to the Isle of Wight to play golf and do yoga, the former something he loves and I do occasionally, the latter a practice about which both of us were filled with a mixture of intrigue and terror.
Oh – and my dad made me promise we'd also visit his favourite restaurant KFC (seriously) for dinner, followed by a movie.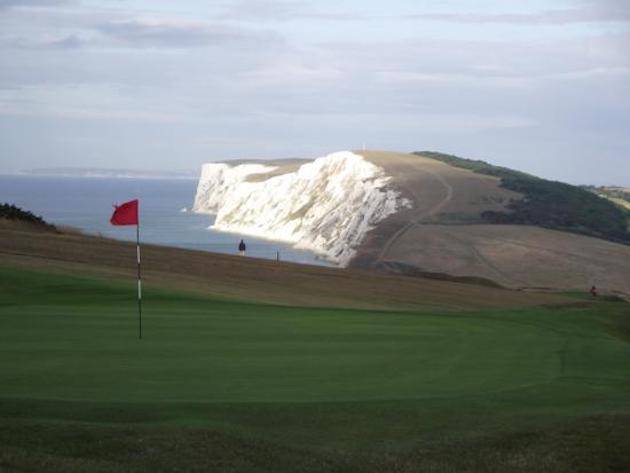 After an easy and comfortable crossing on the Red Funnel car ferry from Southampton to East Cowes, we headed to the golf course. Freshwater Bay Golf Club, nestled above the South West corner of the Isle of Wight overlooking the English Channel, offers Bronze Age burial mounds and distractingly gorgeous views, even more delightful when we played there because the sun shone throughout and the wind (mostly) abated.
As if links-style golf wasn't tough enough – usually crosswinds, mountainous dunes and a nearby beach for stray shots – its cliff top cousin adds an extra quirk: the general public regularly criss-crossing the course on designated coastal footpaths.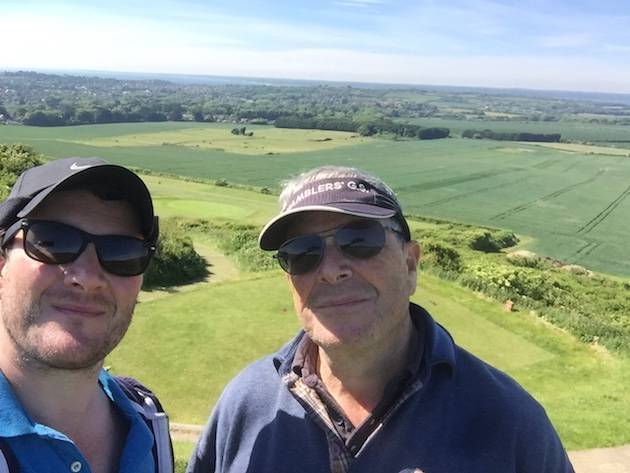 The greens are good, the welcome is warm and while the first dozen or so holes on up-and-downland aren't especially memorable (apart from those amazing views), the final five holes round it off in spectacular fashion, beginning with the vertiginous 186-yard 14th, nicknamed "The Drop". At £38 for a visitor green fee, it's decent value for an excellent holiday course.
Opinion varies amongst mainlanders on the island as a holiday destination, but we found it fantastic and are already planning to come again. Staying in The Royal hotel in Ventnor was a treat. It had a kind of old-fashioned grandeur that suited our expedition (Dad was pleased that at 68, he was one of the younger guests) and was nicely situated near the south coast.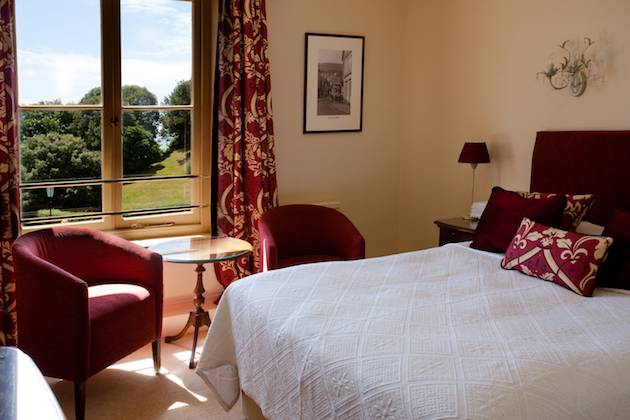 Having ventured out for a chicken dinner and a movie in a Newport multiplex during the evening, we aimed to recover the next day with a trip to Ventnor's Botanic Garden and a yoga session there with Sîan Austin.
Neither my dad nor I are yoga people – mainly because we're generally unfit and have bad backs. But somehow, being in the beautiful Echium Terrace room looking out over a lush morass of trees and plants, with an instructor who didn't balk when she realised she was dealing with a couple of useless newbies, made it okay.
Sîan was excellent, encouraging and didn't care when Dad said he'd had enough about 40 minutes in while I tried to keep going and not look like I was about to pass out from exhaustion. In fact, it felt quite meditative. As does the Isle of Wight in general, really.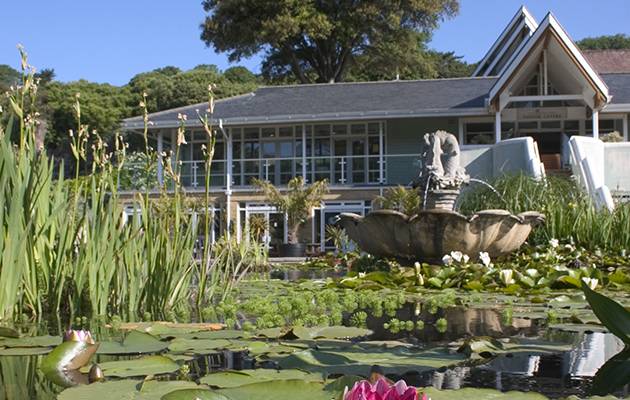 We headed back to East Cowes and the ferry (we were able to sneak onto an earlier boat with no fuss whatsoever which was impressive), resolving to investigate booking another holiday on the island, maybe play some more golf and perhaps, just perhaps ask if Sîan doesn't mind two idiots rocking up to her class again.
Red Funnel run regular crossings between Southampton and East Cowes. Short-stay return ferry crossings with Red Funnel for a car and up to seven passengers start from £56. Accommodation can also be booked through the Red Funnel website. For more information, see: www.redfunnel.co.uk/
For further information visit: www.visitisleofwight.co.uk/