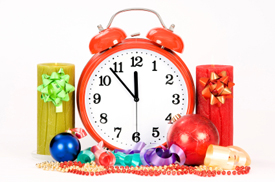 The joy of a child's face when they come downstairs to see if Santa has called is a priceless wonder!
I, like many other fathers, face the prospect of missing that very special delight this year. For some fathers it is because they are serving overseas in the forces, for others, like myself it is forced on us due to our personal circumstances.
Separated parents, like myself, try to plan when we will see our children over Christmas. We have guilt because we cannot, through no fault of own, spend time with our children to celebrate the whole of the festive season. As a result, we try to make it up to our children. Fortunately with FaceTime, MSN and Skype we can keep contact, but it doesn't capture that glow we feel when we see our child's eyes light up!
This is the first Christmas that I face not being with my children throughout this magical time in their lives. This Christmas I don't know when I will see my boys. My soon to be ex wife, is refusing to discuss Christmas till we meet in court and sort out contact exactly one week before Christmas day.
My dad reminds me it is only one day out of 365! It is a special day, but why is it special? Pragmatically it's a date that is purely symbolic and as such, any other day could be adopted to celebrate.
I grew up in a divorced family and my birthday is the day after Boxing Day. I never felt I had a Christmas like my friends. Today, divorced and separated parents are almost the norm. Children move between houses over Christmas. Some courts argue that children should be at home for Christmas.
Strange that the mothers always consider their house to be the children's home and that they go to Dad's house …. I feel it should also be seen not as dads house but also their home too.
Does it matter when and where you see your children at Xmas? No of course not, the important thing is to see them and in my opinion to see them on Christmas day itself. Yes, you can make other days special but the 25th December IS Christmas Day. It is when most of the world celebrates the birth of a child, and the creation of family. It is a shame that the concept of family is not at the heart of Christmas contact, either as parents, with mediators, or through the court.
So buy your presents for your children, make your time with them special and try to have contact on Christmas Day … It does means a lot to your children that you are around to share this very special day . I WILL see my children on Christmas day, even if it is only for five minutes – after all it is a very special day for me too!