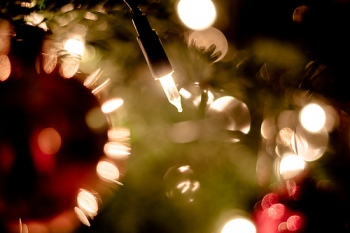 I love Christmas and the good news is it's beginning to look very much like Christmas. What's not to like about a super hyped, mostly missing the point, stress inducing festival? Like it or loathe it Christmas is just 2 weeks away and I for one can't wait.
In my house at least, we've fully embraced the season's festivities. I'm eating at least 2 mince pies a day. I'm even attempting to grow a beard like Santa, but as beard growing has never really been one of my strengths, no one has noticed. I've sent a present wish lists to anyone who might consider getting something for me. I've booked time off work for Adlai's first nativity play at pre-school. I have the taste of envelopes constantly in my mouth (which is why I have to eat so many mince pies). And, of course, the tree is up. In fact we have 3 trees up. Yep. Adlai has really taken to the idea of having trees inside so in addition to our main tree I've come home from work on two separate occasions to discover we've bought up unwanted trees from various charity shops across town. To be honest I don't mind a bit. If you can't have slightly tacky Christmas decorations up when you have young kids… when can you?
Each day Adlai wakes up and asks 'is it Christmas yet?' and is bitterly disappointed when we tell him it's still several weeks away. However, Adlai's disappointment is easily abated by our (new) advent mini stockings all of which contain chocolate. Every day so far he's been so excited that his head shakes uncontrollably as he remembers his new advent tradition. Koa too seems to have gotten into the festive spirit by pulling (fairly dangerously) at branches on any of the trees he can get hold of.
On the occasions he's managed to pull one of the small trees on top of him as he just gently hugs it. I'm pretty sure it's in appreciation of all the Christmas spirit the trees bring.
Yep, the holidays are coming and I can't wait.
The views expressed in this blog are solely those of the blogger and do not necessarily represent the views of Dad.info.
image:
Some rights reserved by Pimthida