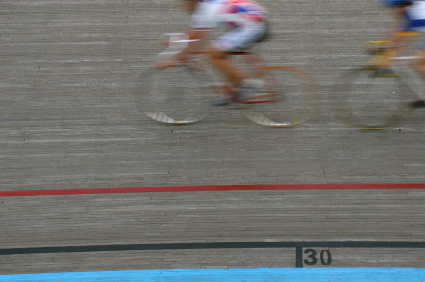 The father of Olympic cycling gold medallist Laura Trott said he felt "absolutely ecstatic" as he watched his daughter cross the finish line to win the omnium race at London 2012.
Adrian Trott said it was a "brilliant" result and it was the least the 20-year-old deserved after all the hard work she had put in to get to the Games.
The 52-year-old accountant watched Trott in Tuesday's final at the Olympic velodrome along with Laura's mother, her cycling sister Emma and other family and friends.
Trott, from Cheshunt, Hertfordshire, won her second gold of the Games by posting an Olympic record time in the 500m time trial, knocking US challenger Sarah Hammer into silver position.
She is now a double world and Olympic champion after she claimed gold in the women's team pursuit on Saturday.
"These last two days have been so stressful," said Mr Trott.
"She didn't make it easy for herself after dropping to second place after the morning session. But we knew she'd win the last event."
Before the gold medal race, Mr Trott said he calmed the nerves by having lunch with his family.
He said the family simply felt "relief" after Laura crossed the line and the tears did not flow until her gold medal was confirmed and the world was staring at her on the podium.
Laura Trott was born in Harlow, Essex, but had to battle through health problems, being born with a collapsed lung and being diagnosed with asthma.
She paid tribute to her father after the race, saying he had spent a lot of money on her cycling dreams and had even given up playing cricket to dedicate more time to her.
"We've never aimed for Laura to compete at a certain event, whether that's the Olympics or not," said Mr Trott.
"We've always told her you've just got to go out there and perform and if you get the results you will be selected.
"If you aim for a certain event and worry about selection, it only ends in disappointment.
"I made a decision to quit club cricket when the girls started cycling, but it wasn't forced.
"We bought them decent equipment as the results came through and we've always supported them in what they're doing.
"If they were musicians, we'd have bought them musical equipment."
Following the race, Emma Trott posted an online picture of herself with her champion sister and tweeted: "She's not just done our family proud, she's done the nation proud."
Read more at the BBC Online.