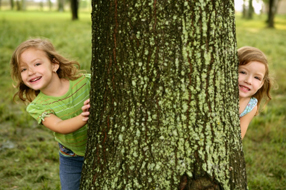 Fears over safety and traffic are preventing children playing outdoors, research for Play England suggests.
Almost half of parents (49%) said their children did not play outside because of fears about "stranger danger".
The survey of 1,000 parents found nearly a third (31%) said their child did not play outside the house because of fears of an accident or injury.
The poll was released to mark Playday 2012, an annual campaign day aimed at encouraging play.
The survey found almost half (43.6%) of today's parents believed their own children had less time to play than they did.
In a bid to boost play, community organisers across the UK are organising around 500 different events for half a million children and their families, focusing on the theme "Get out and Play".
The organisers, Play England, Play Scotland, Play Wales and PlayBoard Northern Ireland, have been running the campaign for 25 years.
The aim is to raise awareness of children's right to play and the importance of play for their health, wellbeing and happiness.
There is a particular focus this year on the benefits of outdoor play.
Cath Prisk, director of Play England, said: "Playing outside should be an everyday event for all children.
"If we want to foster the next generation of Olympians and sports stars, then we need children with confidence, who love being active and are confident in tackling challenges.
"If parents are too afraid to let their children play out… then we as a society need to address this fear.
"Whether that's a community, living in a cul-de-sac agreeing children will be playing out everyday, a street applying to the council to close the road for play regularly, or residents volunteering to help local play projects reach more children, we can all do our bit."
Read more at the BBC Online.