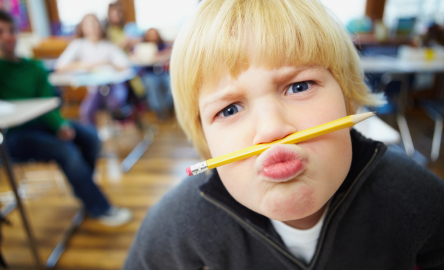 Schools must do more to tackle the root causes of bad behaviour, a leading children's charity has warned.
Barnardo's says unruly children may have special needs or serious problems at home.
These may be causing them to "act out" rather than "act up" in class.
The government's behaviour tsar Charlie Taylor has said there has been an increase in children who need more help and support to tackle their problems.
Official Department for Education figures out last week showed that children with special educational needs [SEN] are nine times more likely to be expelled from school.
In 2010/11, SEN children with a statement were permanently excluded on 430 occasions, and accounted for 8% of all expulsions, the Department for Education statistics show.
Barnardo's chief executive Anne Marie Carrie said: "A school teacher's job is not an easy one, but they must look behind the behaviour to see the child. Unruly pupils may be acting out, not just acting up.
"The most 'out of control' children may be the most vulnerable children facing horrendous problems at home.
"Pupils may also have undiagnosed special needs, and the earlier these are identified, the better chance they have to reach their full potential.
"We believe that education and a stable home are vital if children are to have a chance at overcoming disadvantage."
The charity argues that behavioural problems often start at home or in the community, with some youngsters dealing with issues such domestic violence or parents who are drug addicts.
Mr Taylor told the Commons education committee last month that there was a group of children in schools "who show very extreme behaviour, very difficult, challenging, violent behaviour".
They were often "quite young children" and he said the numbers were possibly increasing.
He added that these groups needed "extra interventions" and "more help" and for whom the "basic standards of just a really well-run school aren't enough".
He has also called for all trainee teachers to be equipped with adequate behaviour management training.
The National Union of Teachers general secretary Christine Blower said: "Teachers are extremely committed to developing inclusive practice and make good progress in this.
"Learning for children with SEN must be co-ordinated across the school, and the undervalued role of the SEN Co-Ordinator, or SENCO, is essential here."
Read more at the BBC Online.