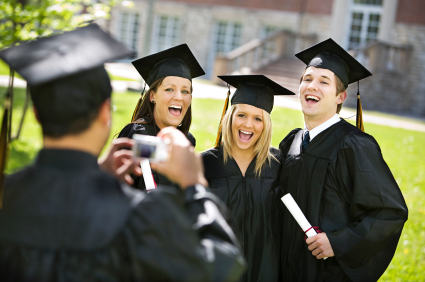 Two in three graduates who left university this summer headed straight back to the family home, a survey shows.
The majority blame parlous finances for their return to the nest, but a quarter admitted they were happy to head back.
One reason could be that half revealed they are not expected to contribute towards bills.
The poll of nearly 2,000 recent graduates, by discounts website MyVoucherCodes, found that 61 per cent of those coming home were doing so due to 'financial difficulties', although 24 per cent 'wanted to return'.
Just over half – 53 per cent – said they would stay for the 'foreseeable future.
Mark Pearson of MyVoucherCodes said: 'With it being tough for graduates to get a job in their chosen field at the moment, it's not as though everyone can simply step straight into a well-paid job after university and go it alone.'
He suggested that 'getting together with friends and finding a place to rent is a good stepping stone . . . but this is only a good option if the bills can be covered comfortably'.
The findings, based on a survey carried out in August of 2011 and 2012 graduates, precede a big increase in university tuition fees, which kicks in next month.
The rise in top-rate fees from £3,375-a-year to £9,000 may prompt many more graduates to go back to their parents after university to save as much money as they can.
A separate study by the Aviva insurance group, released earlier this month, suggested that children who return to the family home after university are staying for an average of three years.
It found that an average grownup son or daughter who returns to live in the family home at around the age of 23 does not leave until they are 26.
A quarter stay for five years, and one in 12 hang around for more than ten years.
It suggested that a young man or woman who lives with their parents is likely to be almost £120 a week better off than if they had their own accommodation, where they would have to shell out for a mortgage or rent, as well as bills and council tax.
Earlier this summer the Government's Office for National Statistics (ONS) estimated the scale of the boomerang generation at three million young people – nearly two million men and over a million women.
Numbers have risen by a fifth since 1997, according to the ONS.
Read more at the Mail Online.