With Christmas just around the corner, parents are thinking about how much it'll cost to fulfil their children's Christmas lists. But how has this changed over time?
To find out, musicMagpie have looked back at the most popular Christmas presents of each year from 1970 to 2018. Shockingly, they found that in parents will have to spend 5 times as much to get 2018's must-have gifts compared to 1970!
Explore the data and see what the most popular presents were when you were born, as well as how much they cost – https://musicmagpie.co.uk/christmas-past-and-present/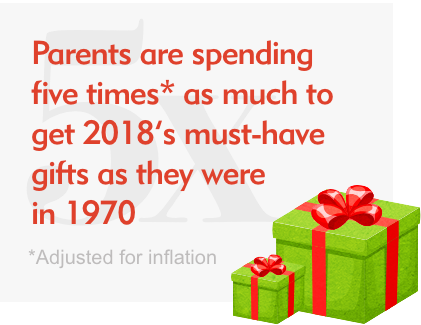 Out of the 48 years analysed, 1987 came out as the cheapest, with the top 5 presents costing just £35.48 (£96.70 in today's money). At the other end of the scale, 2013 came out as the most expensive, coming to a grand total of £1,092.40 (£1,215.92 in today's money).

You can see the full list of most popular gifts on the musicMagpie website – https://musicmagpie.co.uk/christmas-past-and-present/