The world's most famous pilot – Santa Claus – will be taking to the skies this Christmas on board in-flight grottos, giving lucky passengers a festive surprise…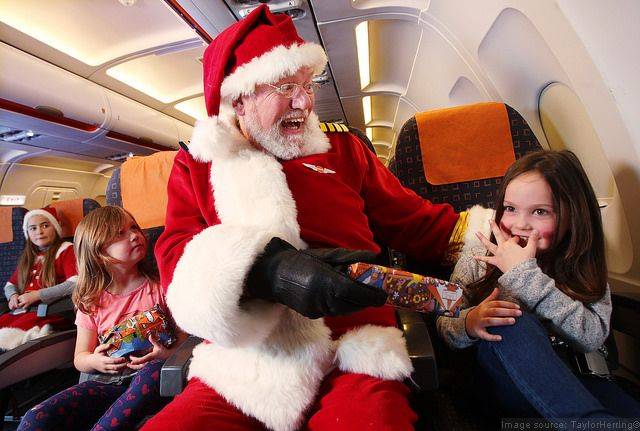 Santa, a pilot who has clocked up hundreds of thousands of air miles and has been flying for over 1,700 years, is taking off earlier than scheduled this year to meet 20,000 passengers in advance of Christmas Day… is the story to tell your kids if you're one of the lucky families to encounter Santa.
What's the real story? EasyJet is launching more than 100 flights across Europe over the festive period, which will see lucky children get a surprise from Father Christmas.
To celebrate the launch of the new festive themed flights easyJet surprised and delighted children and families on board a flight to Europe. Their cabin crew and staff rigged a plane with hidden cameras to capture the reactions of passengers as Captain Claus' voice came over the tannoy and delivered presents to those on-board:
Tina Milton, Head of Cabin Crew, easyJet said: "We fly millions of people home or on holiday over the Christmas period and we want to get the festive feeling started on board. We have hired the world's most famous pilot to fly on over 100 selected flights and give over 20,000 passengers an incredible surprise."
Santa was spotted by passengers at Gatwick airport as he prepared for his pre-Christmas flight check at easyJet HQ. Swapping sleigh and reindeer for an aircraft, Santa will be earning his wings as he takes to the skies on an Airbus A320.