The actor bucked the chocolate egg trend in favour of healthy treats.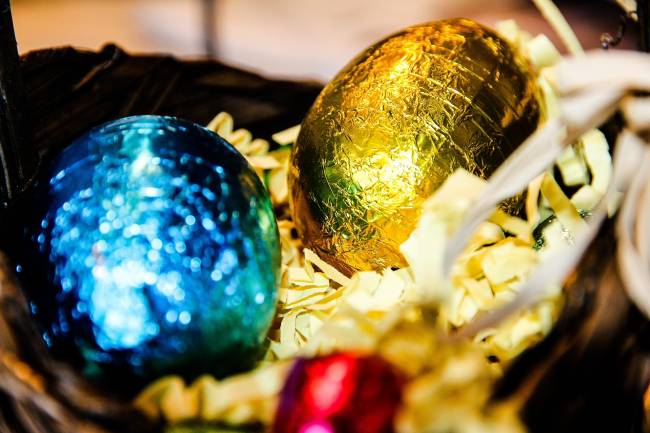 Ashton Kutcher has revealed he and wife Mila Kunis gave their daughter some unusual Easter gifts instead of chocolates this year.
Whilst on American talk show 'Jimmy Kimmel Live' the 38-year-old star discussed how the pair felt their daughter was "not ready for candy."
Instead, the couple opted to give their 1 and a half year old, named Wyatt, healthy snacks.
Luckily, Wyatt reacted positively to the Easter basket full of raisins and Cheerios.
The father-of-one remarked: "She loved the raisins! She was, like, going ape for the raisins."
He also said that chocolate eggs weren't the only Easter tradition he and his wife have decided not to follow.
The pair have also decided not to introduce their daughter to the idea of the Easter bunny.
Talking on the show, Kutcher said: "We actually were debating whether or not we were going to explain to her that a bunny was laying eggs.
"So, we had a legitimate conversation as to whether or not we're going to go down that path. Like, we think we're going Santa Claus, but we don't know about the bunny.
"It's tough because it's like, 'Why is a bunny laying eggs? Mommy, does a bunny lay eggs?' … 'No, but the Easter Bunny does.' And then it becomes a whole thing."
Fellow celeb dad and host of the show Kimmel also said he was currently fielding difficult questions from his 20-month-old daughter, noting that trying to answer them can be "tough."
Kutcher replied with a laugh: "We just become big liars as they get older."
Kutcher and Kunis's idea to ditch the chocolate eggs might be a good idea for those looking for a healthier lifestyle.
In 2015, a poll found that the average child receives £56 worth of Easter eggs and consumed around 8,000 calories of chocolate over the Easter weekend.
The survey of more than 2,118 parents found that children will normally receive an average of eight Easter eggs, which would equate to 8,000 calories if the average children's egg contains 1,000 calories.
On average, the UK buys around 8 million easter eggs every year, with the Easter egg market in the country thought to be worth around £220 million.