David Beckham has asked an artist of a different kind to design a tattoo for him – his four year old daughter.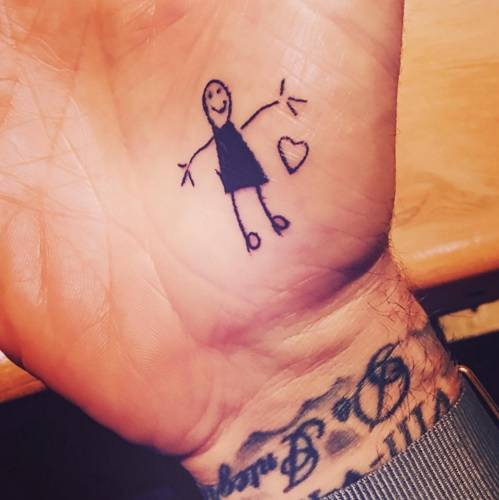 The former England footballer has posted a picture on Instagram, of his hand complete with a new tattoo, designed by his little girl.
The father of four now has a little smiling stick-figure on the palm of his hand, alongside a love heart.
He captioned the photo: "Apparently Harper is allowed to scribble on daddy."
Eldest son Brooklyn also shared a photo of the tattoo, adding: "Love my dad's new tat."
Victoria was a proud wife and mother, sharing an Instagram captioned: "Harper is a true little artist x x".
The 40-year-old dad already has a tattoo with his daughter's name on his neck with "Pretty Lady" written above.
His sons Brooklyn, Romeo and Cruz also seemed to have a go at adding to their dad's tattoo collection.
The devoted father posted another image with "We love you daddy" written across his chest.
Underneath, the caption read, "The boys expressing how they feel about daddy".
Bec
Just last month, David who is married to former Spice Girl Victoria Beckham, honored his oldest child with another tattoo, featuring his playful nickname for the teen – Buster.
And, the protective dad has recently revealed that he has banned his wife from cutting Harper's hair.
The retired footballer said that he won't ever let his four-year-old daughter get her tresses trimmed because he wants her to have long, princess hair.