David Beckham has proved once again just how much he loves spending time with his kids.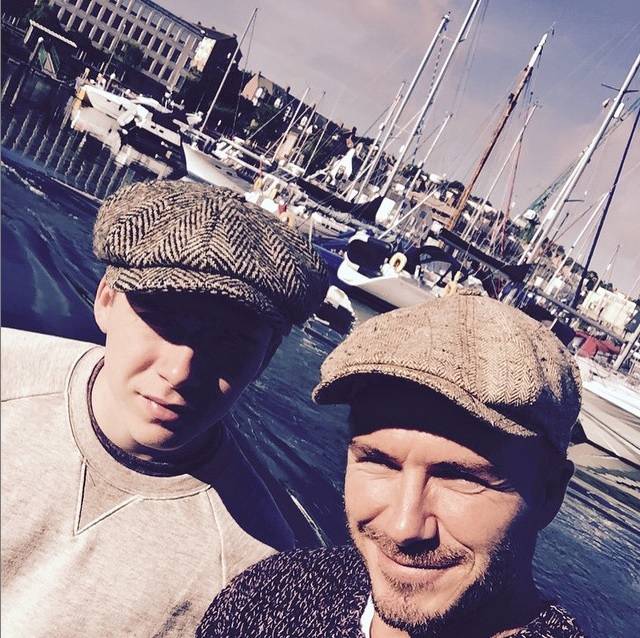 During a visit to Dorset this week, the former footballer and his eldest son went out on a fishing trip in Weymouth.
Beckham quickly posted a picture of himself on his Instagram account alongside 16-year-old Brooklyn and said: "Bonding time with your kids is always so special…. Dad and Brooklyn fishing outing".
The photo relayed once more just how close the father and son actually are and they were even wearing matching flat caps to prove it.
David has three other children 12-year-old Romeo, 10-year-old Cruz and three-year-old Harper.
But it seems Brooklyn is the one who's growing in his father's image.
He had already followed his dad into football, signing up for a youth team and has a keen interest in fashion just like his father.
Last week, a survey revealed that 64 per cent of dads seek some guidance from their sons when it comes to buying new clothes.
The study by fashion retailer Jacamo, involving more than 1,000 people, also found that 56 per cent copy their son's style to avoid being seen as out of date.
A separate survey this week highlighted that it is the modern British dad who has a closer bond with their children.
According to a study by Care.com more than six out of ten dads believe they enjoy a better, more supportive and hands-on relationship with their children compared with the relationship they experienced with their own father.
Sixty per cent blamed a busy worklife for lacking a relationship with their dad, while 30 per cent said they 'showed little emotion' towards them.
A further seven in 10 of the 1,500 dads questioned, said they were responsible for organising days out for the family.
This included participating in shared interests with their children, such as playing or watching football or rugby, swimming, as well as watching television and film.