Hollywood couple Brad Pitt and Angelina Jolie already have six children, but apparently they were aiming for more.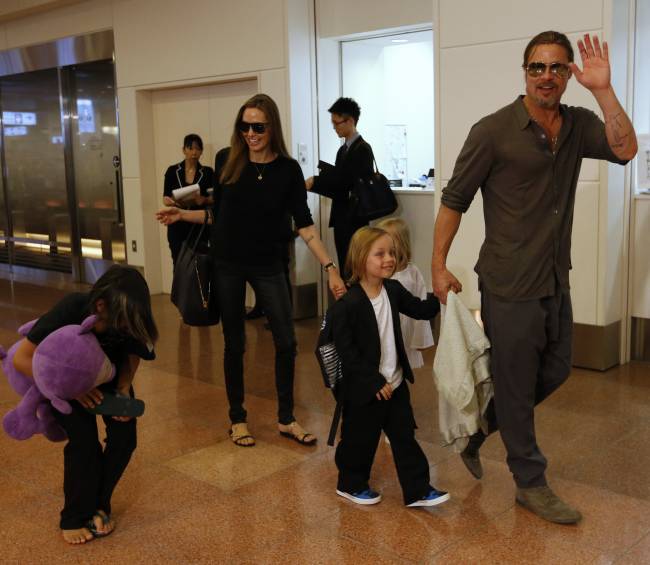 Brad has recently been talking about life with six children, joking that the couple had actually wanted double that number.
In an interview with Daily Telegraph, he said: "Angie and I were aiming for a dozen, but we crapped out after six".
Brad and Angelina are parents to six children, three biological – Shiloh, nine, and seven-year-old twins Knox and Vivienne – and three who are adopted: Maddox, 14, Pax, 11, and Zahara, 10.
The 51-year-old dad described his family unit as: "A lot of love, a lot of fighting, a lot of refereeing; a lot of teeth-brushing and spilling.
"Chaos, total chaos. But so much fun."
The couple met while filming Mr and Mrs Smith in 2005 and were married in August 2014.
While he admitted to sometimes being the disciplinarian in the household, he said he tried to have more of a guidance-based parenting style saying: "Girls do no wrong so I don't have to be.
"I feel like my job is to show them around, help them find what they want to do with their life, put as many things in front of them, and pull them back when they get out of line, so they know who they are."
In a separate interview he also spoke about how he loved being surrounded by his family: "You know, nowadays I really can't wait to get home
"More than at any time in my life, I've got purpose, real purpose. It feels like I've found my place."
According to figures, large families appear to be coming back into fashion.
The UK is now home to more families containing four or more children than at any time since the early 1970s.
The trend comes as parents are becoming increasingly divided between the haves and have-nots.
It comes as the average age of first-time fathers in the UK is now 32 years and six months.