New research from MoneySuperMarket reveals that nearly a third of men (30%) have been banned from dancing by their partners when out together in public, while women are nearly three times (27%) more likely to feel their partners' moves are terrible than vice versa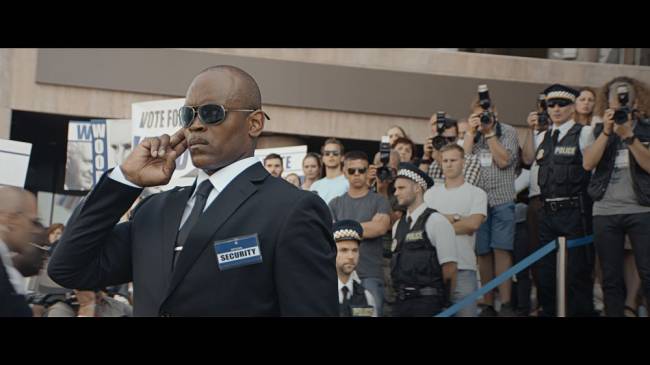 Despite this, men are still more adventurous on the dance floor than women and are more likely to attempt moves like the 'moon walk' (6%), 'robot' (6%) and 'wave' (6%), while one in 10 (10%) women prefer to stick to the classic 'two-step shuffle'.
Four out of 10 Brits (38%) are keen to impress people they find attractive on the dancefloor. However, nearly half (48%) of men admit other people would rate their dancing as terrible, with one in 20 comparing their moves to The Office's David Brent.
It's not just men in the spotlight though. Seven out of 10 Brits (70%) wouldn't rate themselves as good dancers, with a fifth (22%) feeling self-conscious or awkward, and a quarter (26%) worrying they're being laughed at on the dancefloor.
MoneySuperMarket commissioned the research to celebrate the launch of the latest ad in its award-winning 'You're So MoneySuperMarket' campaign. Following the famous 'Epic Strut' from Dave and Colin's 'Wrecking Ball', an exciting new character, Gary, unleashes his inner 'Epic Wolf' with a breakdance marathon while working as a bodyguard for an election candidate.
Gary is played by Tony Wesley, aka 'Mr Wave', who was part of the New York City Breakers, a legendary hip hop crew from the '80s that went from dancing on the streets of the Bronx to performing at the White House. Tony's signature move, which he performs in the ad, led to him being renamed 'Mr Wave'.
'Mr Wave' is offering top tips on how to become an epic dancer, as it's revealed that despite 40% of Brits feeling joyful and energised when they dance, the majority (56%) have never taken dance tips or lessons to improve their skills.
Mr Wave's Top Tips for Owning the Dance Floor:
Start small if you're not sure what to do – get those shoulders rolling and fingers wagging
Make eye contact with someone when you're dancing, show them you mean business
Don't be scared to throw back and try some old skool moves – 'pop'n'lock', 'moon walk'…and even 'the wave'
If you're feeling a little stiff, loosen up by doing an all over body shake before busting out your favourite move
Get into the zone! If you feel self-conscious, get into a character – imagine you've just saved money and you feel EPIC!
Confidence also varies across cities in the UK. People in Coventry rate their moves the highest in the country, with 38% believing they're better than the average dancer, followed by 27% of Londoners. At the other end of the scale, only 9% of people from Edinburgh and Chelmsford believe they can dance.
Signature moves also vary according to age. Perhaps unsurprisingly, the over 35s favour the 'two-step shuffle' (22%), while 25-34 year olds prefer the 'moon walk' (9%) and the under 25s are most likely to pick the far more difficult 'wave' (12%) as their signature move.
Miranda Roe, Brand Marketing Director at MoneySuperMarket, said: "It seems we Brits have little confidence in our dance moves and a lot of men in particular are deterred from hitting the dancefloor. We hope these tips from our very own Gary, aka 'Mr Wave', inspire them to find their mojo and feel as epic as they do when they save money with MoneySuperMarket."
To find out more information and view special behind the scenes footage of the advert, visit MoneySuperMarket.