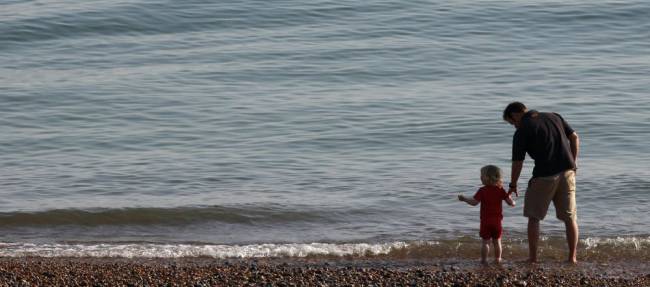 More free childcare? A sentence that would put a smile on the face of most dads.
The Confederation of British Industry (CBI) has said that the average UK couple with two children saw their income fall by £2,132 a year in real terms between 2009/2010 and 2012/13.
Today, the business group has revealed its "radical blueprint" for improving living standards.
It includes offering more free childcare and cutting taxes for the low-paid.
Something welcomed by most dads who are struggling to continue working and also pay for childcare, with the added pressure of rising bills and expenses.
Father of two, Robert, said: "It is only a few years down the line, as your children are getting older, that you look back and wish you had done some things differently."
He added: "The pressures of daily life sometimes mean opportunities to spend more quality time with the family can be lost, especially when they are financially dependent on you".
The CBI said the squeeze on household budgets over the past few years "cannot go on" for ever as it unveiled a series of plans for a Better Off Britain.
Director General John Cridland said: "I want to see more low-paid workers getting the benefit of tax reductions to help with their pay packets."
It is suggesting the Government offer immediate help by raising the threshold of when people pay employee National Insurance to £10,500, which would increase take-home pay by £363 a year, and expand free childcare to one and two-year-olds.
Mr Cridland added: "Even before the recession, the income of a child's parents determined too many of their own life chances. The UK needs to face up to some real long-term challenges".
Childcare costs have increased 27 per cent.
This steep rise has led to dads rapidly increasing their hours to cover the costs, resulting in a dramatic impact in the family home.
Robert added: "Spending too much time at work was the biggest regret, but what are you supposed to do when you are the main breadwinner?"
He went on to say: "Being a working dad is difficult and having to tell your children that "Daddy will not be back home in time for dinner tonight" is hard for all concerned".
Pay has been rising more slowly than inflation for most of the time since the financial crisis.
The CBI claims that extending the 15 hours free childcare per week to all children aged one and two, a benefit currently available to parents of children aged three and four.
They say it would help raise family incomes and get more adults back into work.