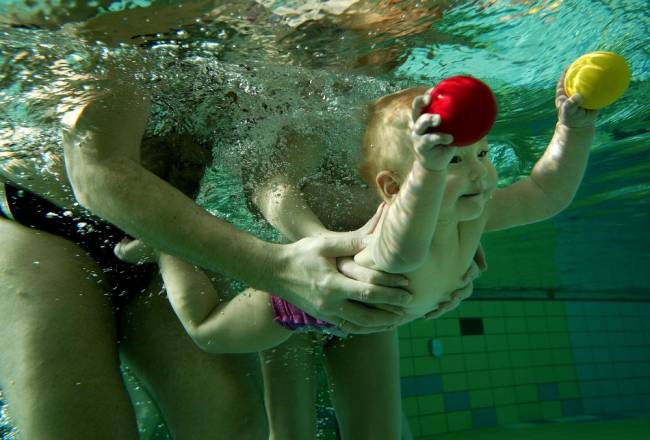 One in three children say swimming is their favourite family activity and THAT for dads has its bonuses.
Going swimming together as a family is a great way of making sure your loved ones are getting some exercise and having fun. And it can be fairly light on the purse strings too.
But according to a report by the Amateur Swimming Association nearly half of primary school children, seven to 11-year-olds, are not able to swim the full length of a 25-metre pool.
It also found more than 1,000 primaries do not even offer swimming lessons, even though it is a skill on the national curriculum.
Swimming and lifesaving are vital skills children need to learn from a young age. We all know that learning a skill such as swimming when our confidence is at a much higher level is easier. It is also something that is rarely forgotten.
Figures show that accidental drowning causes more than 400 UK deaths every year and is the third highest cause of death in children.
The ASA's report also found that many parents (40%) did not know about their child's progress in the water.
Acting chief executive Ashley Beaveridge said: "Swimming isn't just a leisure activity, it's a life-saving skill that every child has the right to learn."
He added: "Our research shows that school swimming is often the only opportunity for many children to learn to swim, so it is vital that we look at the barriers preventing primary schools from allocating the required time."
It is calling on schools to do more to ensure all children leave primary school with the ability to swim and the knowledge of how to keep themselves safe in and around water.
It wants schools to sign up to a new School Swimming Charter to increase the number of kids who can swim with confidence.
If, as a parent you cannot swim, it is never too late to learn. Beginners lessons focus on building up confidence in the water.
Also, if it is something you would like to start doing early, most swimming pools cater for parent and toddler groups – so dads need not feel left out.
Here are just a few benefits of getting in the pool with the family:
* It keeps your heart and lungs healthy
* It improves strength, flexibility and stamina
* Reduces the risk of chronic illnesses such as type 2 diabetes