Actor and father-of-three, Chris Hemsworth, takes time out of shooting the new Thor film to visit a children's hospital in Brisbane…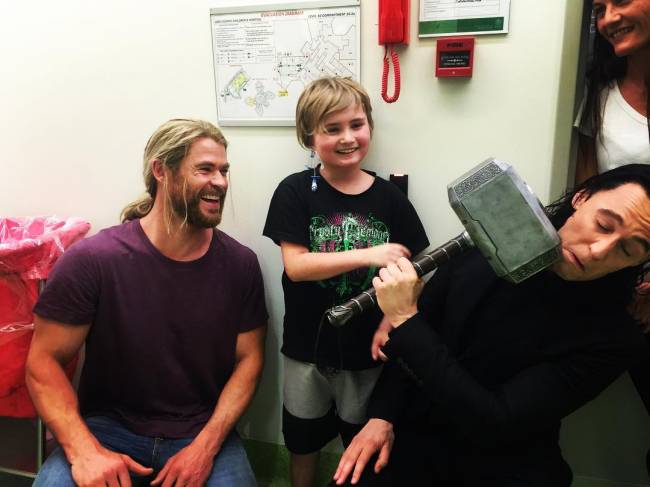 Father-of-three Chris Hemsworth paid a visit to a children's hospital in Brisbane.
The Australian native and his co-star Tom Hiddleton, who are currently filming the latest film in the Thor franchise, visited the Lady Cilento Children's Hospital.
Hemsworth is father to daughter India Rose, who was born in 2012, and twin sons Tristan and Sasha, who were born in 2014. The actor shares the kids with wife and fellow actor Elsa Pataky who he married in 2010. The down-to-earth pair recently spoke out about how they chose to forego "suffocating" Hollywood in favour of raising their children in suburban Australia.
The star met around 80 youngsters during the charitable visit Down Under. Being a father of three-under-threes, the actor came prepared, bringing along his character's trademark hammer Mjolnir. Hiddleston too donned his full Loki costume and long black wig to surprise the youngsters.
The movie stars obligingly posed for pictures with the thrilled children, before being interviewed by one patient for Juiced TV.
11-year-old Koen Weir asked the actor what it's like to be a superhero to which Hemsworth replied that it's "very cool, especially when I face with this supervillain," gesturing to a Loki-clad Hiddleston.
Undoubtedly, Hemsworth's experience of three toddlers prepared him well for all the excitable children on this worthy trip.