Dad.info surveys the nation's fathers to find the top ten celebrity dads we most aspire to be like, and there are some big surprises in there. See who else made the list…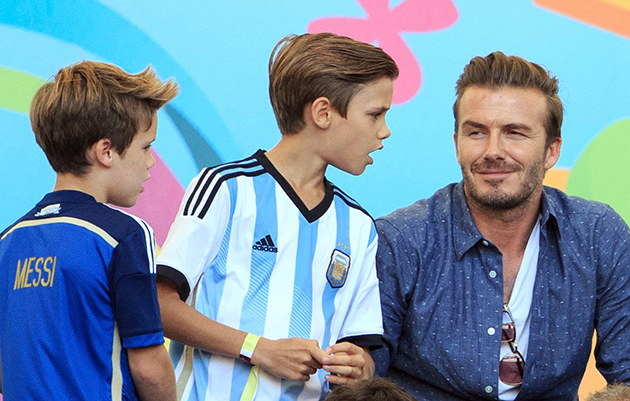 With 21 per cent of the public vote, Becks has topped our poll of the celebrity fathers we most aspire to be like, which – given his credentials as a Spice Girl-marrying, underwear model, adored by women around the world, with big-screen icons, rap stars and members of the royal family as mates – isn't much of a surprise, perhaps.
… Oh, and you might recall Golden Balls also won the treble with Manchester United and got to captain the (slightly less successful) England football team – not that sports seem to be very high on the agenda of our 1,000 surveyed fathers. Only six per cent of dads say their favourite way of spending time with their kids is playing sports outside, with a third of dads instead ranking cooking, reading and arts & crafts as their top ways to spend time with their children.
With a staggering 20 per cent of our respondents saying one of their biggest parenting concerns is how to plait their daughter's hair, it may well be sarong-wearing, hairstyle-hopping, David's status as the ultimate metrosexual that has seen him win the admiration of our thoroughly modern fathers, rather than his sporting pedigree, especially judging by the rest of the list…
2. Jamie Oliver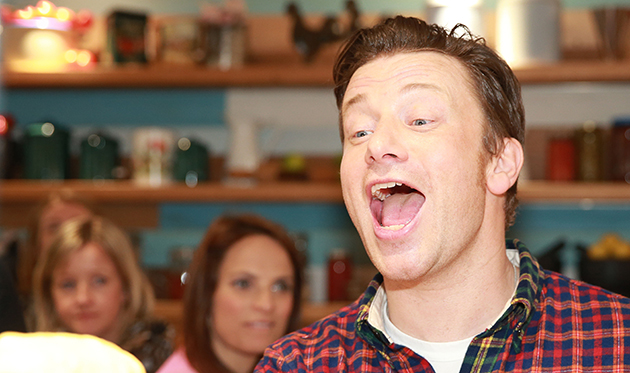 With an abundance of TV cookery shows on our screens it appears the UK's dads are getting more creative in the kitchen, seeing as over half of the fathers polled (55 per cent) said they would never prepare ready-meals for their children.
Some credit, it seems, is going to global superstar chef, Jamie Oliver, whose shows like Jamie's School Dinners and Jamie's American Food Revolution, raised public awareness about the grim ways mass-produced, processed foods are manufactured, and resulted in the government pledging to spend £280m on improving the standard of school dinners.
While Jamie clearly loves his kids too much to ever feed them Turkey Twizzlers, he's not above dishing out some food-related punishment though. He recently admitted he'd once rubbed scotch bonnet peppers on his daughter's apple slices as revenge for general insubordination. Ouch!
3. Homer Simpson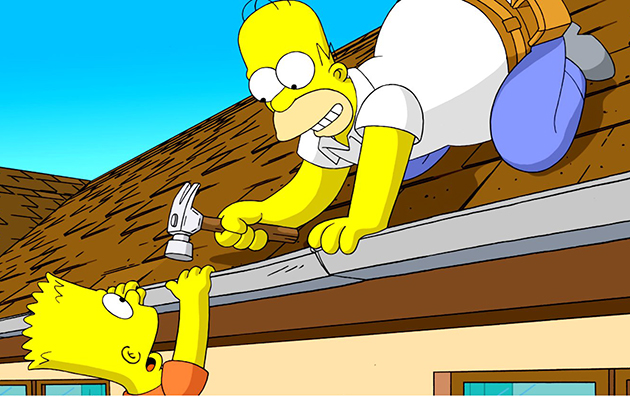 "It's not easy to juggle a pregnant wife and a troubled child, but somehow I managed to fit in eight hours of TV a day."
Flying in the face of our trend towards modern parenting, comes the son-strangling, beer-swilling, telly addict, (and the only fictional character to make the list), Homer Simpson – the dad who once said:
"I believe that children are our future. Unless we stop them now."
Homer has an unusual parenting technique: take for example the time Bart damaged Grandpa Simpson's dentures and Homer told him,
"Now Bart, since you broke Grandpa's teeth, he gets to break yours."
Or his insane advice to Lisa on dealing with upset:
"Just squeeze your rage up into a bitter little ball and release it at an appropriate time, like that day I hit the referee with the whiskey bottle."
And finally his terrible tips on what it takes for a boy to become a man:
"Don't tattle. Always make fun of those different from you. Never say anything, unless you're sure everyone feels exactly the same way you do."
Homer's inclusion at number three on our list is not a terribly big compliment to the luminaries who ranked below him (and just think of the legions of celebrity dads who never even made the list); we can only apologise to the His Royal Highness…
4. = Prince William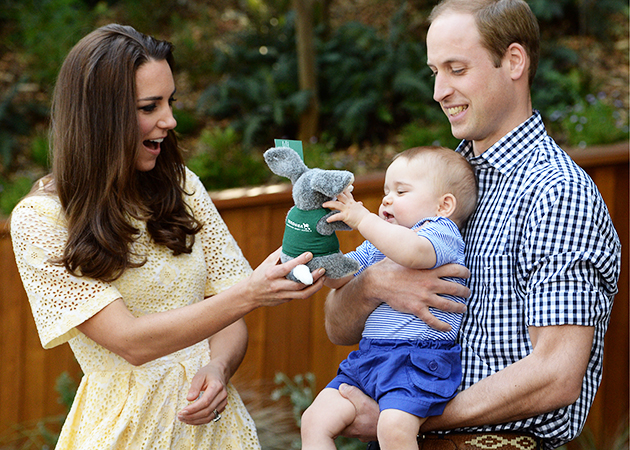 Dad du jour, Wills, with a second nipper on the way, was always going to be a strong contender for our 'Top of the Pops' title, though he finds himself joint-fourth inline to the throne in this case.
Eschewing the perceived stuffiness of the monarchy, William is often seen by the public as a hands-on dad, and a man of the people, and will likely be ringing his mate, Becks, with an official royal congratulation for coming first in this poll. Because our accolade obviously dwarfs David's OBE, Wills might have to put a word with his gran about sorting Becks out with a knighthood to avoid embarrassment.
4. = Brad Pitt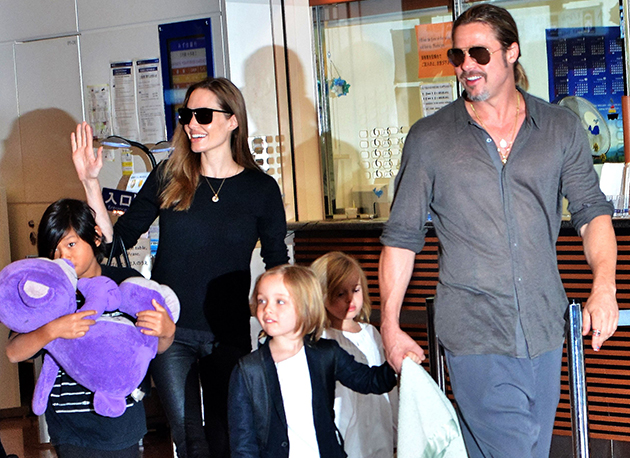 We've scratched our heads and racked our brains, but we can't think of what there is to envy about multi-millionaire Hollywood actor, and regular resident at the top of practically every 'world's sexiest man' poll, Mr Angelina Jolie.
Perhaps it's something to do with all his humanitarian work or his devotion to his bumper brood of kids, that helped him make it to the joint-fourth spot alongside the Duke of Cambridge? Or maybe it's his work in the Ocean's Trilogy, they were pretty good films.
6. David Wallliams
Perhaps the modern dad wants to be seen as a funny guy with a great sense of humour, so the kids don't refuse to be seen in public with him as soon as they hit 13, because Walliams is the first of two British comedians on our list.
David has also penned seven rather amusing children's books, which supports our dads' claims that they love spending quality time developing their children's creative learning through reading. 20 per cent of our fathers ranked helping the kids with their homework as a favourite way of spending time together, and having a laugh with the kids over one of David's books seems a great idea for making literacy lessons more fun.
7. Simon Cowell
A slightly more surprising addition to the list is record mogul, Simon Cowell, making us think that – since he and David Walliams have sat on a judging panel together – maybe the surveyed dads are all just secret X Factor fans.
Cowell became a father for the first time on 14 February 2014, when his son Eric was born. Lets hope his mother is in charge of organising his haircuts.
8. Michael McIntyre
More evidence that fathers want to be seen as fun dads, as hugely popular comic Michael McIntyre makes the top ten.
Michael is father to two children, Oscar and Lucas, whom he has used as the subject of a few of his stand-up routines. Perhaps a sign that modern dads like to give their kids a bit of a ribbing from time to time, and that men want their kids to be their pals too? #banter
9. David Cameron
Regardless of what you may think of his politics, or even government education policy, David Cameron has been recognised by our polled fathers as a great dad. Not as great as couch monster, Homer Simpson, but definitely top ten material.
The Prime Minister has had four children – the first of whom, Ivan, was born with severe disabilities, and died on 25 February 2009, aged six – as well as two daughters, Nancy and Florence, and another son, Arthur. His sometimes difficult experiences as a father have made him a passionate supporter of the NHS, and balancing these with his high-flying political success has also made him a parenting role model for many.
10. Will Smith
Lastly, it seems our surveyed fathers would like to give their kids a step up in life, like celebrity papa, the Fresh Prince of nepotism, Will Smith.
Smith has three children, Willard 'Trey' Smith III, from his first marriage, who appeared in his dad's music video for the 1998 single Just the Two of Us; Jaden Smith who co-stars with his father in The Pursuit of Happyness; and his daughter Willow Smith, who appeared as his screen daughter in the vampire movie, I Am Legend.
Not to be out done by Mr Smith, my father also managed to get me into the movies: he snuck me in to the local Odeon to see 12-rated Batman when I was only nine-years-old. Nice one, dad!