A father in the US sent his daughter into school with a letter explaining why she had turned up so late.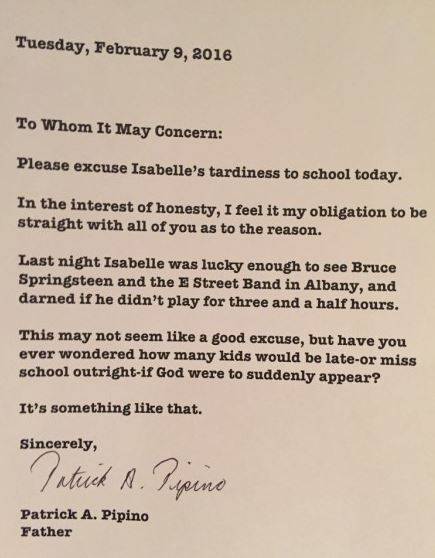 Patrick Pipino from New York wrote a note to teachers explaining that Isabelle was watching Bruce Springsteen's concert until 11pm.
It read: "Please excuse Isabelle's tardiness to school today,"
"In the interest of honesty, I feel it my obligation to be straight with all of you as to the reason.
"Last night Isabelle was lucky enough to see Bruce Springsteen and the E Street Band in Albany, and darned if he didn't play for three and a half hours.
"This may not seem like a good excuse, but have you ever wondered how many kids would be late – or miss school outright – if God were to suddenly appear?
"It's something like that."
Speaking to ABC News, he said his two daughters Isabelle, 12, and Sarah, seven, are both big fans of the Boss.
The father of two's note has been shared hundreds of thousands of times since it appeared on Reddit earlier this week.
Figures released in the UK in 2012 revealed that almost 400,000 pupils miss 15 per cent of schooling a year – the equivalent of having a month off school.
The evidence shows that as childrepartn move up through the school system from primary school onwards, the number of children who are persistently absent grows – most significantly in the final years of secondary school.
Last month, a school in Somerset turned the tables on parents telling them off for dropping children at the gates in the morning still wearing their pyjamas.
Kate Chisholm, headteacher at Skerne Park Academy, Darlington, wrote home to mums and dads urging them to dress properly so they set a decent example to pupils.
In her letter she said: "It is important that parents are role models and for them to see that they should maybe not attend events in nightwear."