"I was taken aback by how many people missed the story or didn't even look past the nudity to find the story"- mum Heather Whitten posted after facing criticism over a picture of her sick young son being comforted by her husband in the shower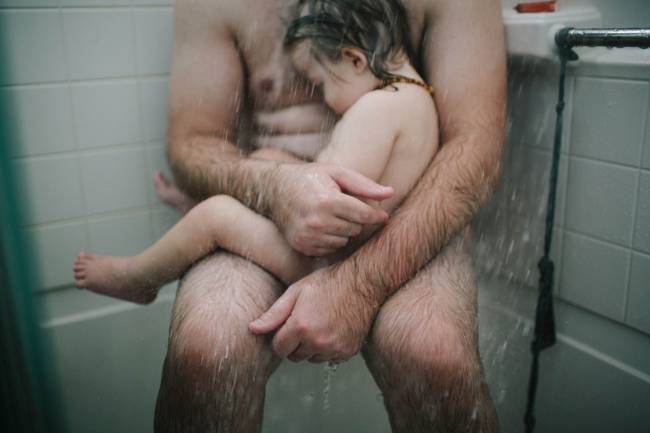 A touching photo of a dad caring for his sick child in the shower has been removed from the social networking site Facebook multiple times.
Photographer and mum Heather Whitten captured the moment between her husband and their son Fox, who was nearly one at the time.
In a post on Facebook that has since gone viral Heather said "Fox would be hospitalized that night for salmonella poisoning [that we never figured out how he was exposed to]. Thomas had spent hours in the shower with him, trying to keep his fever down and letting the vomit and diarrhoea rinse off of them both as it came.
"As I sat in the shower with the two of them I was just overwhelmed with the scene in front of me. This man. This husband and partner and father. He was so patient and so loving and so strong with our tiny son in his lap. His whispers of reassurance to Fox that he would be ok and that Thomas would take care of him were so steady and so honest.
I stepped out and grabbed my camera and came back to snap a few images of it and, of course shared them".
Due to the nudity in the photo it was reported to the website and they decided it should be removed, with Heather saying:
"I was taken aback by how many people missed the story or didn't even look past the nudity to find the story. They were just hung up on them both being nude and being in the shower. I had crossed a line. It was too intimate. It shouldn't be shared publicly. But, I disagree."
The photo was taken back in 2014 but the issue came up again when Heather did an interview with fellow photographer Rebecca Wang. Afterwards the images in the video were reported and the interview taken down by Facebook.
The two photographers think that if people like Kim Kardashian and other celebrities can post pictures of themselves wearing very little, there shouldn't be any difference for artists who take pictures.
Other photos Heather has shared on her Facebook page include ones of her breastfeeding her two young children and one of the two kids lying in bed naked, although no private parts can been seen.
"While most of the comments are positive, one person commented saying "you should have covered these baby's up….so wrong".
Starting the hashtag #StandUpStripDown on Facebook, Heather shared the photo and wrote about her experience in a post that has been up for two weeks.
In that time it has received over 100,000 likes and been shared over 30,000 times.
Many of the comments are supportive of Heather, saying they find the photograph beautiful and powerful.
What do you think? Should mums and dads be able to share photos like this of their kids on social media?