How much pocket money to give your child can be a difficult decision to make.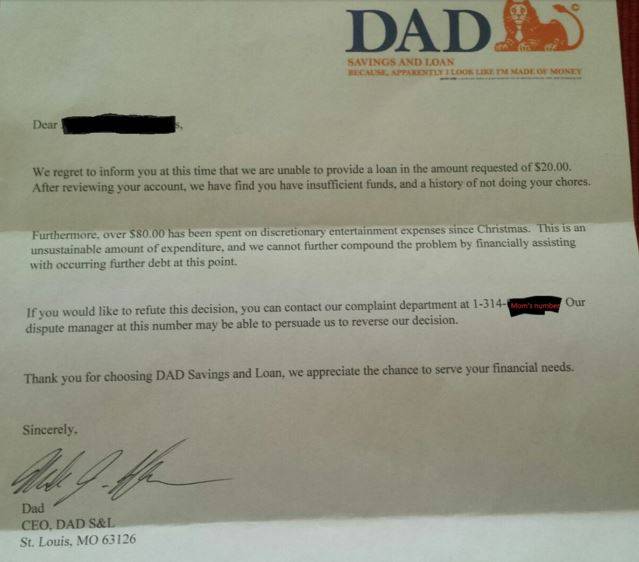 Saying no to handing over money is much easier.
One father from the US has rejected his six-year-old's request for an advance on his allowance on "official" letterhead paper.
Writing as the CEO of "DAD Savings and Loan", he shared a snap of the satirical letter on Reddit, where it has since been viewed more than two million times.
The letter denies the child's request, citing a past failure to complete chores and an excess of expenses since Christmas time.
It reads: "We regret to inform you at this time that we are unable to provide a loan in the amount requested of $20".
"After reviewing your account, we find you have insufficient funds, and a history of not doing your chores.
"Furthermore, over $80 has been spent on discretionary entertainment expenses since Christmas.
"This is an unsustainable amount of expenditure, and we cannot further compound the problem by financially assisting with occurring further debt at this point.
He went on to say that if he wanted to dispute the decision he could call his mother: "Our dispute manager at this number may be able to persuade us to reverse our decision.
"Thank you for choosing DAD Savings and Loan, we appreciate the chance to serve your financial needs."
According to an annual survey of pocket money, parents in the UK are now giving their kids an average of £6.20 a week.
More than a thousand children are asked to reveal their allowances each year by Halifax bank, which has carried out the research since 1987.
Most of the children surveyed, all aged between eight and 15, said they had to complete household chores in order to earn their allowances.
Making it on the list of common tasks to ask kids to do are bedroom tidying, washing up and doing their homework.
According to the study, pocket money peaked in 2006 just ahead of the credit crunch when mums and dads doled out £8.37 a week.