We all know the love a parent feels for their child is unlike any other, but it's always nice to be reminded in pictures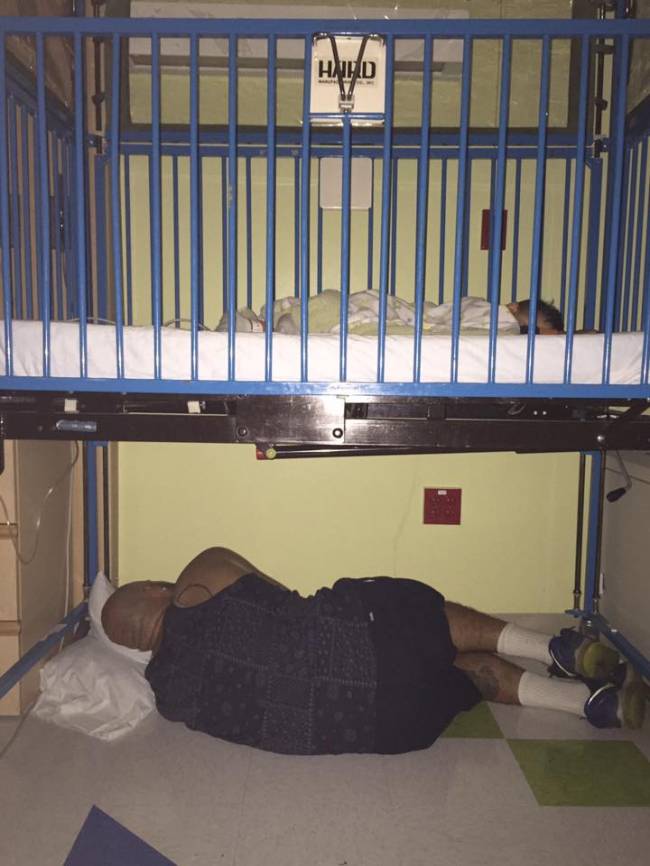 A photograph of an American father sleeping under his son's hospital bed has captured the hearts of people across the world.
Amy Palmer, from Pennsylvania, posted the photo on Facebook showing her husband Andre Palmer, sleeping under their son AJ's crib after the toddler suffered an asthma attack.
On social media, Mrs Palmer wrote: "This is a picture of a hardworking man dedicated to his family!! After working all night third shift [sic], he's right here with his son who is in the hospital. He's so tired but he's here!! Father of the year award goes to Andre Palmer!!! I love you more than words baby."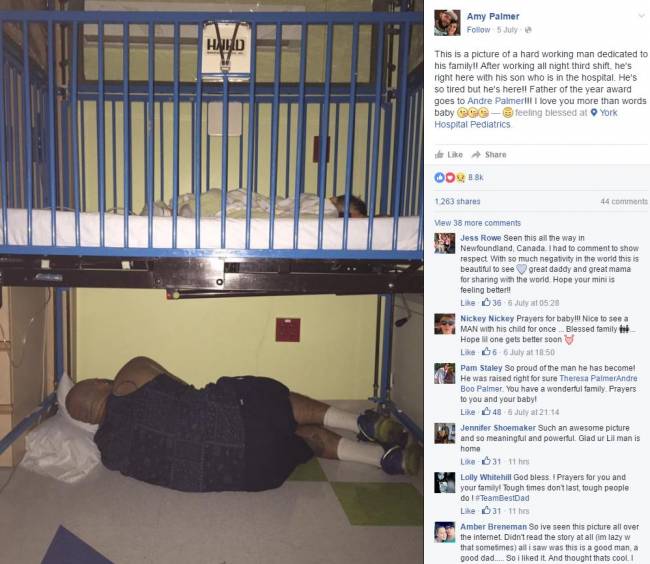 The devoted dad had arrived at York Hospital Paediatrics after working an all-night shift from 11pm-7am.
Two-year-old AJ, which is short for Andre Jesse, was being treated after suffering from "an asthma attack I just couldn't break," Mrs Palmer told Fox 59.
In a comment on Facebook, AJ's mother added that she did not let her husband sleep there for long and let him rest on the chair bed.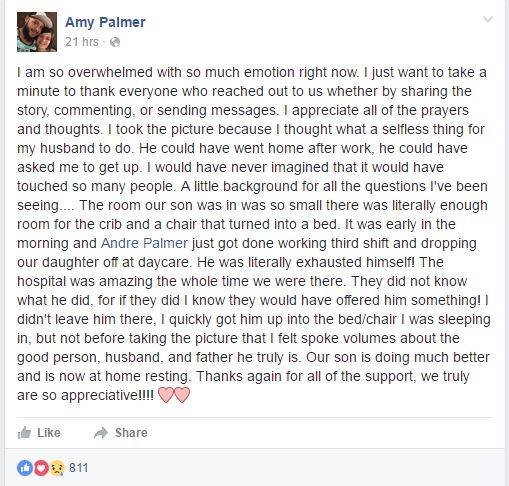 AJ has now been discharged from the hospital and is "doing well", Mrs Palmer told the family's many well-wishers on Facebook.
"I am so overwhelmed with so much emotion right now. I just want to take a minute to thank everyone who reached out to us whether by sharing the story, commenting, or sending messages. I appreciate all of the prayers and thoughts.
"I took the picture because I thought what a selfless thing for my husband to do. He could have went home after work, he could have asked me to get up. I would have never imagined that it would have touched so many people."