Couples who are married or in a civil partnership report a "very high rating" of life satisfaction compared with those who are single or in relationships, according to the Office for National Statistics
A higher proportion of married couples reported a much higher rating of "life satisfaction" compared with those who are single or in relationships, according to the latest official snapshot of national wellbeing.
The data by the Office for National Statistics (ONS) found that more than a third of people (34.7%), who are married or have entered into a civil partnership, rate their life satisfaction as either a nine or a 10 out of 10.
Read more: Can high expectations erode a marriage?
Over a quarter (28.9%) of those who are widowed or live with their partner have given their life satisfaction the same rating.
Just under a fifth (19.5%) of people who were separated or divorced rated their life satisfaction as "very high" in the survey which covers the period between 2011 and 2014.
Meanwhile, around a fifth (21.9%) of single people described themselves as "very satisfied".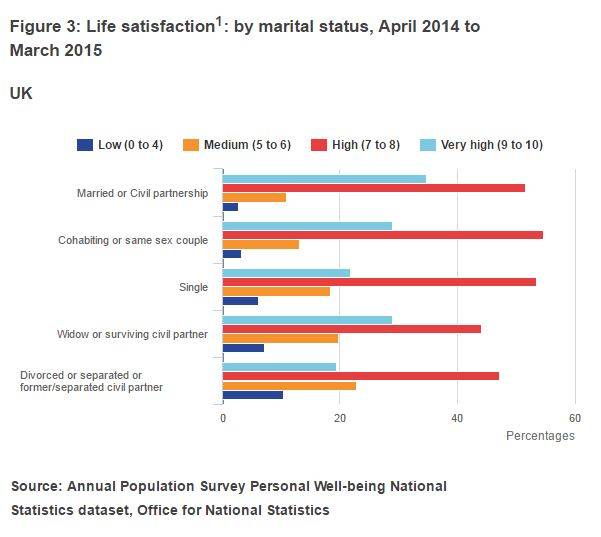 Overall, the figures by the UK's largest independent producer of official statistics, found that national wellbeing has improved.
Areas of life which the survey said were enhanced included personal finances and the economy. However, satisfaction with health in the UK fell by two-thirds (66.3%) during the survey period.
Finally, while the latest data also shows few changes in children's well-being overall, the ONS has said, "there are still areas of concern, such as the proportion of children who report being bullied frequently and the proportion of children reporting symptoms of mental ill-health".