They act as a 'starter-kit' for new mums and dads, providing them with all the essentials a baby needs.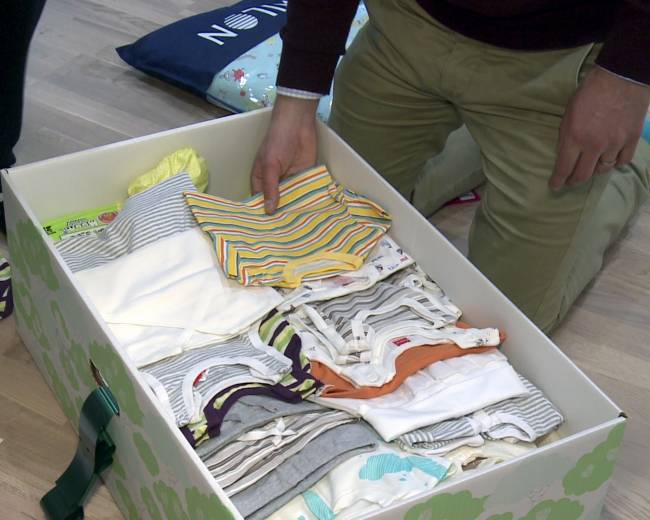 A West London hospital has become the first in the UK to give new parents so-called 'baby boxes'.
They've been given out in Finland since 1938 and are credited with helping the country achieve one the lowest infant mortality rates in the world.
The boxes contain several essentials for new-born babies including nappies, wipes, clothes and a thermometer. It also contains a mattress which turns the box into a portable bed, which means the baby never needs to sleep too far from Mum or Dad.
Bianca Adefarakan-Davies and her husband Robert are among some of the first to receive the box for their son Jackson. They told ITV news;
'Having this and being given those bits and pieces you need once you get home just for your first few weeks is really brilliant. As a bed, something portable like this is actually really good, and he loves it! If you got any old cardboard box you would not put your child in there, but this one does actually work'.
While the Adefarakan-Davies family are one of the first to receive a box from a UK hospital Prince William and Kate were gifted one by the Finnish government ahead of the birth of Prince George in 2013.
The aim is to stop babies sleeping in bed with their mums and dads, as this can lead to suffocation.
The Queen Charlotte and Chelsea Hospital in London will give out 600 boxes to families who have their babies there over the next few months.
It is thanks to a collaboration with US company Baby Box Co, meaning it hasn't cost the NHS a penny.
According to Jennifer Clary, who is the CEO of Baby Box Co who also sell the boxes;
'Queen Charlotte's and Chelsea Hospital was a terrific pilot site because they have a long rich tradition providing exemplary maternal and infant care services. We really wanted to be associated with that and it snowballed from there. People heard about it and we're expanding very rapidly in the United Kingdom'.
There are plans for the baby boxes to be provided at hospitals around the country including in Cheshire, Leicester, Blackpool and Birmingham as well as more in London.