More than 1 in 3 new fathers are concerned about their mental health, according to new research.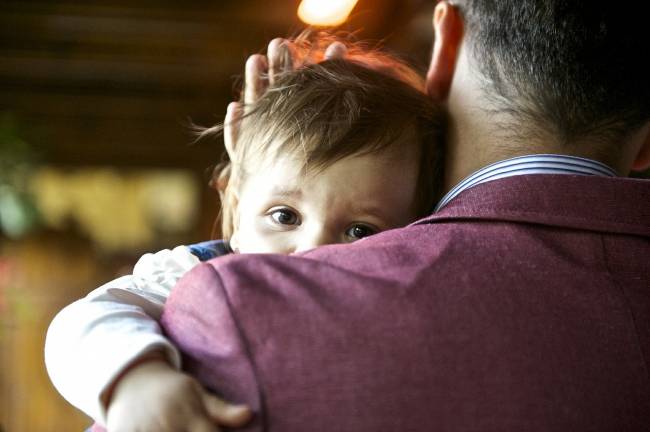 The study by the National Childbirth Trust (NCT) also found that three quarters were worried about the health of their baby's mother.
Mark Williams founder of education and support group Dads Matter UK, whose mental health suffered after he became a dad said: "There are all sorts of reasons why men suffer mental health problems after the birth of a child.
"Some suffer from postnatal depression themselves whilst others get downcast because their partners have mental health troubles.
"I suffered from post-traumatic stress disorder after seeing my wife's distressing birth."
There are many factors that can contribute to postnatal depression for fathers.
Caring for a baby is challenging and so are the increased pressures that come with the full-time job of parenting.
Many may have concerns surrounding their financial responsibility, changes in relationships and lifestyle.
All those combined with a lack of sleep and an increased workload at home, may all affect a new dad's mental wellbeing.
Dr Sarah McMullen from NCT, said: "We recognise the huge impact having a baby can have on dads as well as mums.
"Perinatal mental health issues can affect men or women so raising awareness of the specific concerns and questions that dads-to-be or new dads have is crucial.
"Dads sometimes feel uncomfortable about opening up about their feelings but we would encourage them to do so and seek the support they need."
By highlighting that the issue also affects men, the parenting charity NCT, hopes it will encourage dads to ask for help.
An Oxford University study published last month, which followed 15 first-time fathers, found that five showed signs of mild to moderate depression two weeks after their child's birth, and one showed symptoms of moderately severe depression at six months.
It is estimated that one in 10 women suffer from postnatal depression.
It can start within one or two months of giving birth, although it can also be several months after having a baby before symptoms start to appear.
The charity says it is important for new dads to exercise every day, even if it is a walk with the buggy, as this can have a positive effect on mood and wellbeing.
For more advice and information visit: www.nct.org.uk/dads-PND