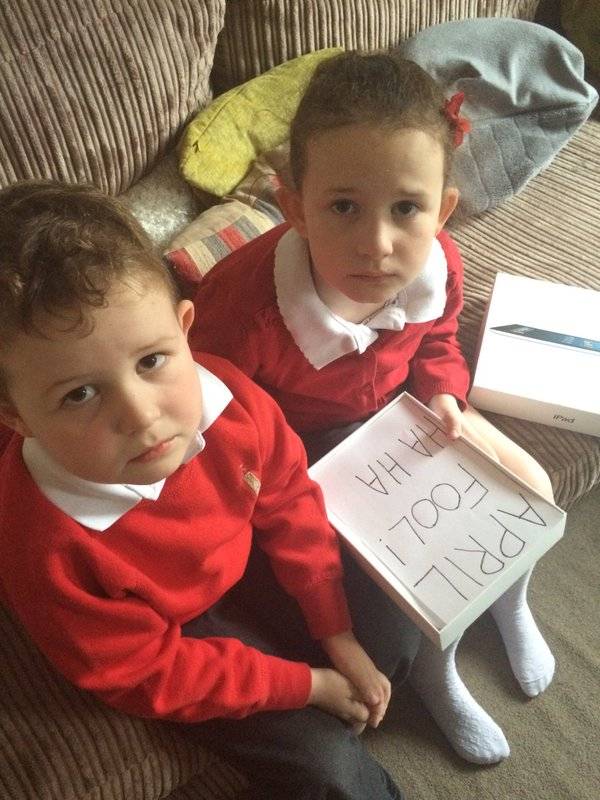 The father of two took to twitter to share his shenanigans.
Where kids would once beg for sweets or one more story before bed, the latest tech is often top of today's wish lists.
Which is what makes this dad's April Fools Day prank so perfect.
Joe Heenan took to Twitter this morning to share in his pranking glory.
The premise was simple, his kids wanted their own iPad.
And he had a spare box…
The added touch of a hand-written note saying: "April Fool! Ha ha" rounds off the practical joke nicely.
His two kids, however, were not amused.
The comedian then shared a snap of his kids disappointed faces online.
But he didn't stop there, proceeding to play a further two pranks on the family dog.
Joe's escapades aren't the only hijinks to make it into the news.
Google is facing a huge backlash after its April Fool Gmail button caused outrage online.
The fully functional button appeared on the email site today and allowed users to shut down an email thread by sending a gif of a Minion dropping a microphone.
The idea, according to Google, was that users could: "Simply reply to any email using the new 'Send + Mic Drop' button. Everyone will get your message, but that's the last you'll ever hear about it. Yes, even if folks try to respond, you won't see it."
However, the button led to a string of complaints online, with one person saying: "This is horrible – just sent an email to a client with this stupid icon on it. I can't afford these stupid pranks!"
But for some, the consequences were even worse.
One Gmail user reported that: "Thanks to 'mic drop' I just lost my job."
"I sent my articles to my boss and never heard back from her. I inadvertently sent the email using the 'mic drop' send button."
The writer's boss apparently took offence to the Minion GIF, assuming it to be an insult to her editing skills.
The post ended: "I just woke up to a very angry voicemail from her which is how I found out about this 'hilarious' prank."
Google has since removed the button and issued an apology, blaming a bug for the complications some users faced.