Back in 1989 as many as 70% of people thought couples should marry before having a child, but it appears attitudes have changed a great deal
New research suggests having children outside of wedlock is no longer so widely considered to be a social taboo in the UK.
The gap between those who condemn people that want to start a family without tying the knot and those who think it is acceptable has narrowed to become virtually on par
Analysis of NatCen's British Social Attitudes survey found that in 2014 37% of the population thought marriage should be a precondition to having children, while 35% did not.
This marks a significant shift in public opinion from 1989 when seven people in ten (70%) felt that people should be married if they want to have children, compared with less two in ten (17%) who disagreed.
Older people, and people who are religious, are more likely to believe that couples should marry before having children, however they are still much less likely to hold these views than in the 1980s.
In 1989, 78% of Anglicans said that people who want children should be married, but this had fallen to less than half (47%) in 2014.
There has also been an increase in the proportion of people who believe that there is little difference between being married and living together in the last decade or so. In 2014, three quarters of people (74%) held this view, compared with two thirds (66%) in 2006.
A significant majority (62%) of the 2,878 people interviewed also believe that it is just as difficult for unmarried parents to separate as it is for married parents.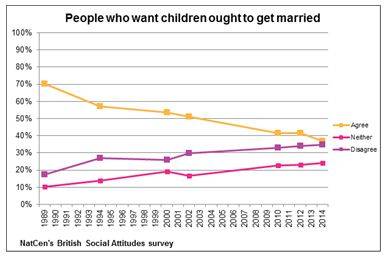 Ian Simpson, Senior Researcher, NatCen Social Research said: "We seem to be reaching a tipping point for traditional views of marriage.
"For the first time the same proportion of people disagree that people who want children should get married as agree.
"Interestingly this change has happened across society. Even people who consider themselves to be religious are far less likely to think you need to be married to have children than in the past.
"Our views on marriage and relationships have changed a lot in the past 30 years. People are more accepting of same-sex marriages, are more accepting of people living together without getting married and are less likely to think that men should go out to work while women stay at home."
NatCen is Britain's largest independent social research organisation.