The Duke and the Duchess of Cambridge have released a new photograph of their young family in the run-up to Christmas.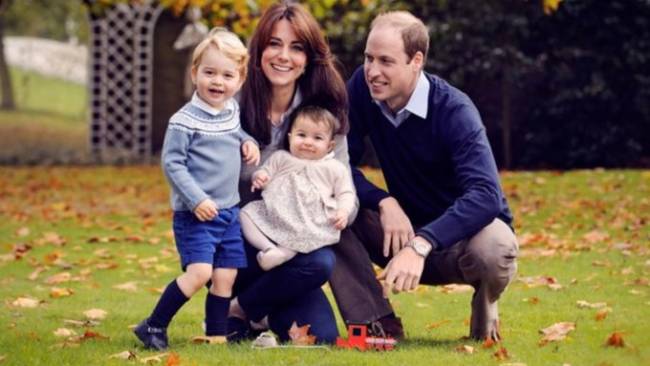 The photograph was taken in late October and shows Will and Kate with their two children at Kensington Palace.
It was posted online on Kensington Palace's Twitter and Instagram accounts.
A statement on Instagram said: "A new family photo – Merry Christmas from The Duke and Duchess of Cambridge, Prince George and Princess Charlotte.
"The Duke and Duchess are hugely appreciative of all the warm messages they have received about their family this year and are very much looking forward to their first Christmas as a family of four."
The image adds to the glimpses the public has had of Princess Charlotte after pictures of her were released around three weeks ago to mark her turning six months old.
It is not known what George and Charlotte will be getting from Father Christmas this year, but George is reportedly a big fan of toy helicopters, tractors and planes.
The release of the pictures comes as the royal couple announced that they will be sending two-year-old George to nursey in January.
He will attend Westacre Montessori in Norfolk, part-time, from the start of the New Year.
It costs £33-a-day to send a child to the school and 85 per cent of children receive funding to go there, meaning they get 15 free hours of education per week.
Both Prince William and Prince Harry attended Montessori nurseries and the news further cements the couple's belief that their children should have as normal an upbringing as possible.
The method of nursery education invented by the Italian Maria Montessori, places an emphasis on independence, freedom and social development.
Children are taught in mixed age groups, given choices of activities, and freedom of movement within the classroom.
A spokesman for the school said: "We are looking forward to welcoming George to our nursery where he will get the same special experience as all of our children."
In the UK, all three and four-year-olds get free child care, with two-year-olds getting it only if they are in the poorest 40 per cent of families.
Last month, the Chancellor George Osborne pledged £1bn in the Spending Review to increase the number of free hours available to parents from 15 to 30 in 2017.