The proud parents of the newest US Masters champion Danny Willett, have described how they helped the Yorkshire man occasionally skip school to play golf
Golfer Danny Willett has become the first Briton to win the US Masters in 20 years, just 11 days after his wife gave birth to their first child.
The 28-year-old from Sheffield said it had been a fantastic week, declaring the victory "awesome".
.@Danny_Willett: Birth of a Champion #themastershttps://t.co/6iwDeszqk2

— Masters Tournament (@TheMasters) April 11, 2016
Willett clinched victory after American Jordan Spieth's game unravelled; the defending champion suffering a quadruple bogey on the 12th hole in the final round.
The Englishman's family have spoken of their pride at the win, with one of Willett's brothers turning into a social media star for his commentary of the game.
Peter, a teacher in Birmingham, joked that he had "won Twitter" in a series of posts into the small hours.
Tweeting as @P–J–Willett he wrote: "When I'm too tired to teach a good lesson tomorrow, and some kid spits at me, I'm just gonna smile and say 'I won Twitter' *drops mic."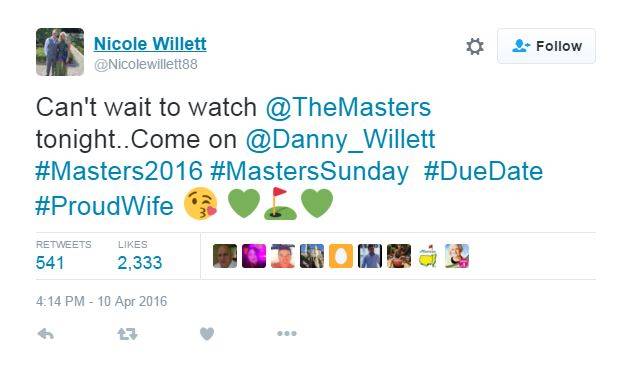 Speaking to the BBC, the golfer's parents, the Reverend Stephen and Elisabet Willett, said they had been stunned by their son's "meteoric" rise in recent years.
The retired vicar even admitted he had kept his son off school when he was very young after late sessions on the course.
He told the Radio 4 Today programme: "He (Danny) has always thought his chances were good. I have never been particularly up with golf – I play it but I had no idea that he could do this. It's wonderful."
Mrs Willett said Danny took up golf during childhood holidays in Anglesey.
"Gradually Danny got better and better than all the rest of them and we thought maybe there was something there," she said.
Mr Willett added: "By the time he was 12 he was out driving me."
The couple said they had argued over allowing their son to skip school so he could build on his golf game.