A new report from Lego has revealed that 67% of parents are too distracted and busy to play with their kids… and the kids feel the same way…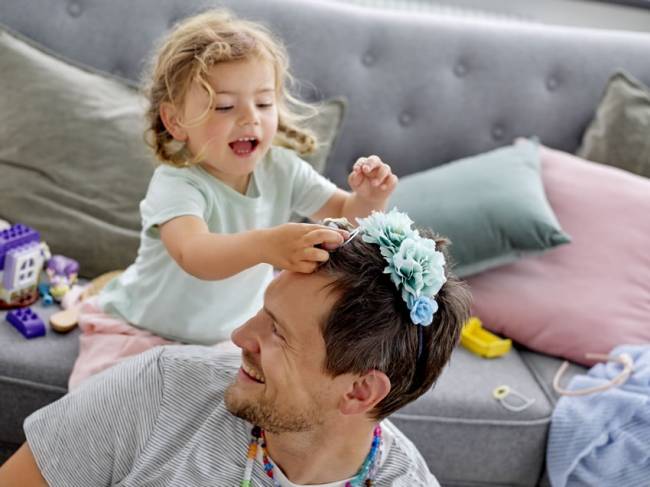 We've all been there; your little ones are desperate to play but hectic life schedules make it difficult. Work needs to get done, dinner needs to be made and playing with your children plummets to the bottom of the priority list. 67% of UK parents admit to getting too distracted by life's demands to concentrate on playing with their children. Alarmingly, kids are just as bad! The LEGO Group report that one in five children feel they are 'too busy' to play!
We all love to play, if only there were more hours in the day. Not least because play helps contribute to emotional wellbeing, as well as cognitive development in children. Unsurprisingly, an overwhelming 92% of kids in the UK say more play makes them happy. So, when your kid gets home from a long day at school, try playing with them to increase happiness and wellbeing. In fact, 88% say playing helps them relax from the pressures of school. And us grown-ups love it too. 95% of UK parents say play is good for their own wellbeing and 75% say it increases their happiness. In fact – 88% of UK parents say that playing with their children helps them de-stress, whilst making them feel more connected to their child – it's a win-win!
Julia Goldin, LEGO Group CMO said, "The beauty of play is that it evolves and changes with each generation, yet its benefits remain constant." And the benefits are clear. 89% of UK families who play together for at least five hours per week, claim to be happy. This number drops to 80% for families that play less than 5 hours a week together.
So, how can time-poor Dads (and mums) across the country implement more play into their busy children's lives?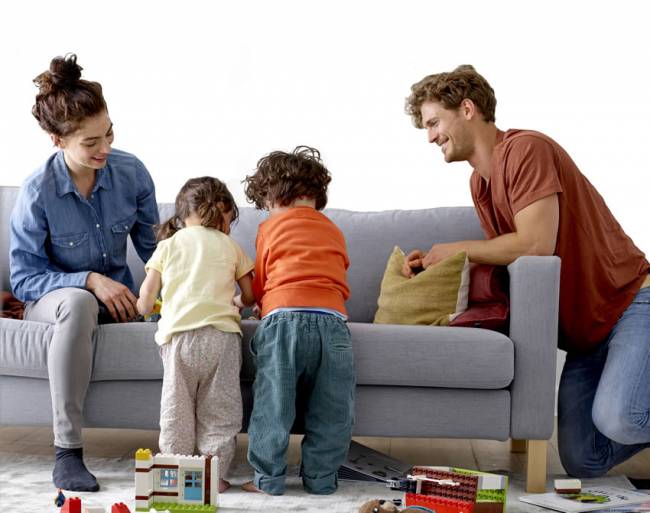 Firstly, we need to reconsider the importance of play, to our children, ourselves and the family unit. Once we truly appreciate that play is not only the most intuitive but also most effective way for children to learn, and for us to bond with our children, prioritising playtime becomes easier.
Secondly, we need to challenge our own view of what play is for us and what it is for our children, and not least how we can better adopt to their play worlds to unlock more shared playtime. Children today are seamlessly merging the physical, imaginary and digital worlds of play together, adapting to their space and surroundings. They are doing this in a way that our generation could never have imagined, often making us insecure of how to navigate in their play world. This new type of evolved play has been coined 'fluid play' by the LEGO Group, and by embracing the opportunities that come from fluid play, so joining not only children's physical but also digital play, we stand to gain more valuable playtime with our children.
And it's no surprise that parents across the globe worry about their children's safety online. 91% of UK parents are concerned about online safety. But don't worry, robots haven't replaced us just yet – 75% of children still prefer to play with their parents than alone. Phew. And on the other side, we do recognise the benefits of screen-time – 82% of UK parents believe that digital play can be creative, and creativity is a crucial skill.
Elena Hoicka, Senior Lecturer in Psychology in Education at the University of Bristol said, "More than previous generations, kids today see the digital and real worlds as part of one big, interconnected play space. To make the most of their time playing together, parents need to adopt this fluid mindset too."
We can also make every day activities more fun and playful.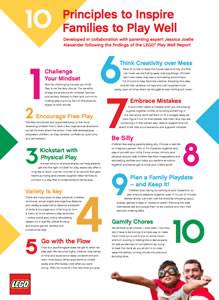 Together with parenting expert Jessica Joelle Alexander, the LEGO Group has curated a list of 10 easy, yet crucial, principles to inspire families to play well (Click to download the document).
Jessica Joelle Alexander adds: "Playing together is a fundamental cornerstone of family life for children and parents alike. But with modern lifestyles busier than ever and so much emphasis on formal education and structured activities, it can be easy to forget to make time for it. Given the positive effects it has on our wellbeing and happiness levels, family play should be the most important 'homework' of all."
Global report highlights:
93% of parents think play should be used as a tool for child development and learning in school
91% of parents think play has a role in helping their child to succeed in school
82% of parents think children who play more will achieve greater success in higher education and work later in life
86% of parents say playing with their child helps them destress and unwind
89% of parents say playing with their child puts their life in perspective
89% of parents say they enjoy playing with their child just as much as their child enjoys it
95% of parents say play is essential to the overall wellbeing of their child
Parents rate confidence, communication and creativity as the most crucial skills for their children to have to succeed and thrive in the future
93% of parents say play helps their child learn how to socialise with others
95% of parents say play is essential for the child's development
89% of parents say play is good for their own wellbeing
94% of parents say play helps them get to know their child better
95% of parents say play builds stronger family bonds
95% of parents say play facilitates better family communication
87% of children say play helps them relax and switch off after school
93% of children say they feel happy when they play with their parents
83% of children say they learn better when it feels like play
To read the full LEGO Play Well Report and 10 Principles to Inspire Families to Play Well from The LEGO Group and expert collaborators, head to the LEGO Group website.