World number one tennis player Novak Djokovic believes men should be awarded more prize money than women following a row sparked by comments from a top tournament director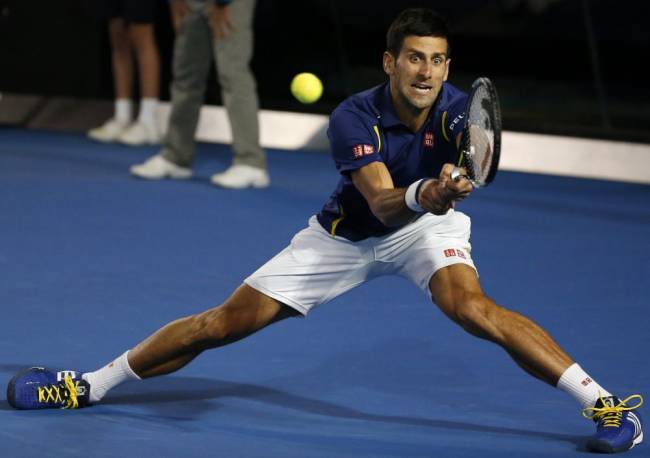 Tennis star Novak Djokovic has drawn more attention to the recent row over prize money in his sport by saying he believes men should be awarded more than women.
The debate on the issue was sparked after controversial comments from BNP Paribas Open chief executive and Indian Wells tournament director Raymond Moore.
The 69-year-old South African, who has since apologised, had earlier told the media that top-level women's players rode "on the coattails of the men" and and were "very, very lucky" to have equal prize money.
"You know, in my next life when I come back I want to be someone in the WTA, because they ride on the coattails of the men.
"They don't make any decisions and they are lucky. They are very, very lucky. If I was a lady player, I'd go down every night on my knees and thank God that Roger Federer and Rafa Nadal were born, because they have carried this sport."
Moore also singled out Canada's Eugenie Bouchard and Spaniard Garbine Muguruza as being among the "very attractive prospects" on the WTA circuit tour.
Explaining what he meant Moore added: "They are physically attractive and competitively attractive…They can assume the mantle of leadership once Serena decides to stop. They really have quite a few very, very attractive players."
World number one and 14-time Grand Slam champion Novak Djokovic said Moore's comments were "not politically correct" and that women players had "fought for what they deserve, and they got it".
However, Djokovic, who became a father for the first time in 2014, also suggested the men's tour should receive more money as it draws more fans.
"On the other hand, I think that our men's tennis world … should fight for more because the stats are showing that we have much more spectators on the men's tennis matches.
"I think that's one of the reasons why maybe we should get awarded more."
Moore, a former ATP Tour player during the 1970s and early 1980s, issued an apology after former world number one Victoria Azarenka beat Serena Williams in the women's final: "At my morning breakfast with the media, I made comments about the WTA that were in extremely poor taste and erroneous.
"I am truly sorry for those remarks, and apologise to all the players and WTA as a whole.
"We had a women's final today that reflects the strength of the players, especially Serena and Victoria, and the entire WTA. Again, I am truly sorry for my remarks."
Following her 6-4, 6-4 defeat to Azarenka top-ranked Williams said: "Those remarks are very much mistaken and very, very, very inaccurate.
"Obviously I don't think any woman should be down on their knees thanking anybody like that."
Williams called Moore's comments a disservice to Billie Jean King, one of the co-founders of the WTA Tour, female athletes and "every woman on this planet that has ever tried to stand up for what they believed in and being proud to be a woman."
Billie Jean King, who co-founded the WTA Tour and has long been a pioneer in the women's game, tweeted: "Disappointed in #RaymondMoore comments. He is wrong on so many levels. Every player, especially the top players, contribute to our success."
Fellow American Chris Evert, an 18-time grand slam champion, tweeted: "Now is the Golden Era 4 men, no doubt, but women have worked, fought harder, and have been bigger draws many times."
Do you think men and women should earn equal prize money in tennis? Leave your thoughts in the comment section below.