US President Barack Obama says he turns into a 'crybaby' at the thought of his eldest daughter flying the nest.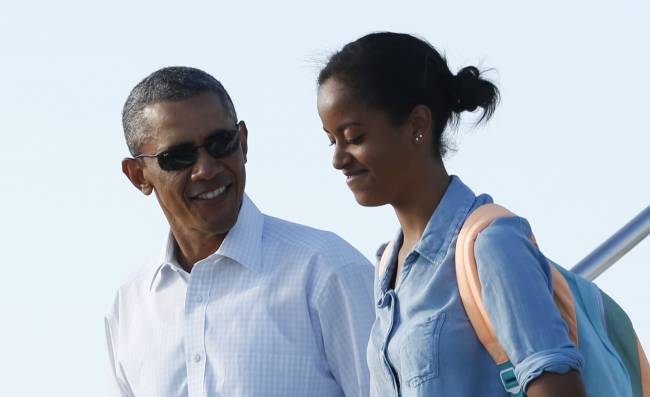 America's dad-in-chief told an audience at Maycomb Community College in Michigan this week that he couldn't help but shed a tear when 17-year-old Malia mentioned going to college.
"Just yesterday, Malia started her first day of senior year. You know, I was sitting in her room because I was going to see her off her first day of school," he said.
"She puts her head on my shoulder and she says, 'Daddy, you know, you realise this is probably going to be the last time that you ever send me off for my first day of school.' And I started. I had to look away."
It's not the first time the President has opened up about his daughter's impending departure. In June, Obama wrote in an article for More magazine that he was "dreading that empty seat at the table".
Malia hasn't announced her college plans but she has reportedly been spotted touring a number of university campuses over the past year including NYU, Columbia and Yale.
The First Daughter already has a pretty healthy CV. In July she pursued her interest in TV production, working with Lena Dunham on the set of comedy-drama Girls.
Her dad used his Michigan speech to promote his proposal for free community college, an idea first raised during his State of the Union speech earlier this year.
Obama said: "For every young person willing to work hard, I want two years of college to be as free and universal as high school is today.
"Back in the day, there were kids who got high school educations if they had a lot of money. But the point was we realised, no, we want to make everybody educated. That will be good for all of us… Well, I want to do the same thing now for community college educations."
The President also announced $175 million in grants to help create 34,000 apprenticeships around the US.
Despite his gruelling schedule, Obama is known to be a devoted dad. He may be also be the Leader of the Free World but he says his two teenage daughters still find him embarrassing.