Do you sometimes feel you're not making enough time for your children? A new survey reveals that you're not alone…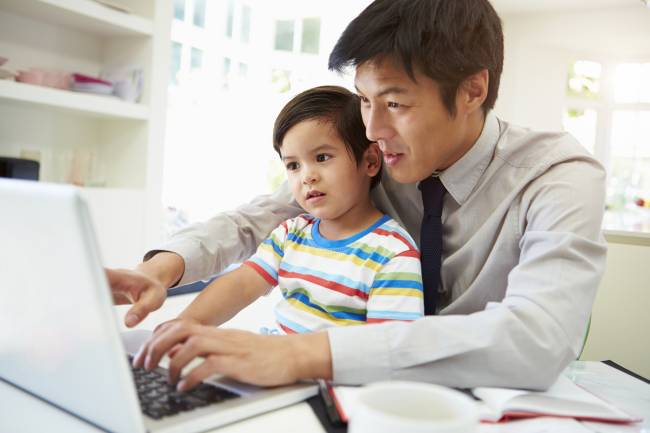 A recent study by bedding company Slumberdown has revealed what many will see as depressing – and sadly unsurprising – results. In today's society, many parents feel they're too busy to spend quality time with their children. Is the pressure that society is placing on us forcing us to spend all our time working for our family, rather than being part of our family?
The pressure on us parents to provide for our children in a materialistic sense seems to be taking away from our time nurturing them, helping them develop emotionally and socially.
Here are some of the survey's key findings…
1. Parents spend more time taking care of the household chores than they do playing with their children.
2. Day-to-day admin tasks and cleaning jobs mean parents are struggling to get quality time with their children, but many admit that ignoring the chores leaves them feeling stressed.
3. More than three-quarters surveyed said they need to completely leave the house in order to really make the most of time with their little ones.
4. A worrying 83% have days where household chores and other commitments leave them feeling like they haven't spent any real time with their children at all.
5. The average parent spends almost four hours a day – the equivalent of more than 59 full days a year – completing household chores. That's over two months every year. In comparison, just three hours and 28 minutes a week, or 52 days a year, is spent enjoying time with their children.
6. 86% of parents wish they had more time to spend with their children away from the distraction of the household chores.
7. More than four in 10 parents even said their children had made comments or complained about the time they spend cleaning the house rather than playing with them. But eight in 10 say they would need to ignore the cleaning or household jobs in order to have enough time with their children, although 71% say they find it difficult to leave the chores to pile up.
Are you surprised by these findings? At DAD.info we want to compile some ideas of quick things you can do with your child – we all seem to be time poor nowadays, so what fun things can you do in five minutes, fifteen minutes or if you're lucky, an hour? Leave your suggestions below, and find some inspiration with DAD.info's Toddlers and 10 Minutes: What You Can Do article, too.