The Royal family have shown just how much they love a bit of vintage styling
At Princess Charlotte's christening in Sandringham on Sunday, Prince George wore an outfit almost identical to the one that his dad was pictured in more than 30 years ago.
The toddler, who turns two later this month, was seen walking into the Church himself, wearing red shorts and a cream smock top with red embroidery.
He also wore black shoes and white socks, similar to those the Duke of Cambridge was photographed wearing when he went along to meet his then 1-day old brother, Prince Harry.
The royal family walked past crowds on their way up to the Church of St Mary Magdalene.
George, holding his father's hand and walking alongside his mum Kate who was pushing Charlotte in a pram, charmed the public as he waved and smiled.
The young prince seemed extremely confident on his feet as he quickly made a dash away from his parents as they entered the church grounds.
And it was not just George's outfit that was vintage.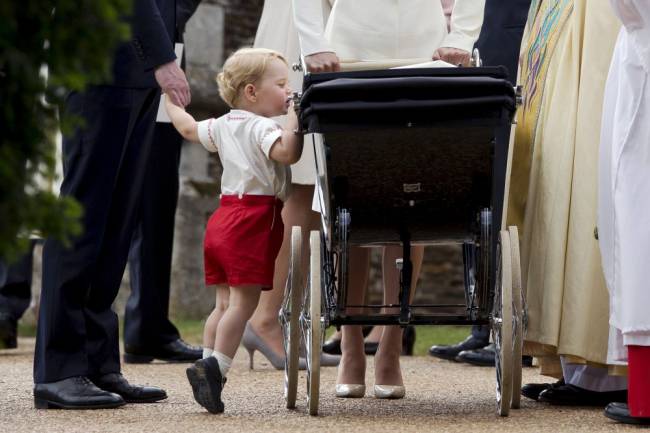 The pram in which Kate pushed Princess Charlotte, who is fourth in line to the throne, was a 65-year old traditional 1950s pram.
It had been previously used by the Queen for Prince Andrew and Prince Edward.
At two months old, Charlotte again was in a family christening gown, also worn by her older brother.
Stepping away slightly from tradition though, the Duke and Duchess of Cambridge chose three close friends, a Spencer relative and a Middleton relative to be godparents.
The young prince, a playful character, was also spotted peering into his sister's pram outside the church.
Last month, former footballer David Beckham posted a photo alongside his eldest son Brooklyn.
Both were wearing matching flat caps while on a fishing trip in Weymouth.
A recent survey by fashion retailer Jacamo, found that 56 per cent of dad's now copy their son's style to avoid being seen as out of date.
However it seems Prince George is recreating his father's looks with a modern touch.