James Corden, Ashton Kutcher and Danny Masterson have united to form a 'dad band' called 'The Puff Daddies'.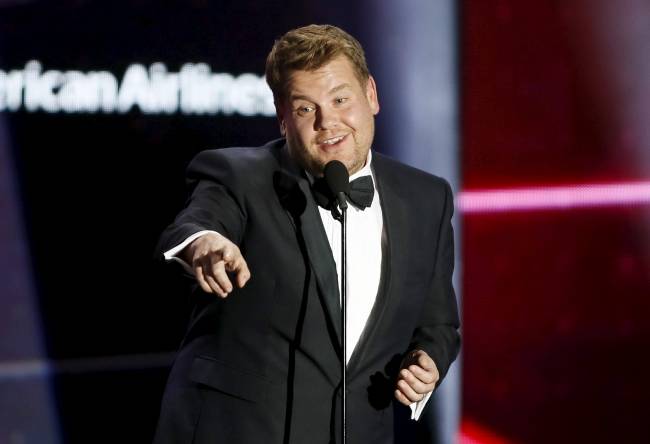 We have had boy bands, we have had 'man bands', but now we have the next step… dad bands.
In a skit on 'The Late Late Show', host James Cordon united with fellow celeb dads Ashton Kutcher and Danny Masterson to create the next step in band evolution.
Naming the group "The Puff Daddies", the trio rolled their strollers onto the stage with fake babies and carriers in hand.
They then broke into their 'new single', which they titled "I Am A Dad."
"I don't play games except for Peek-a-Boo," Kutcher began. "When I talk about my baby girl, I don't mean you."
Corden then chimed in: "I mean my literal baby and that's a fact, like the sheep goes baah and the duck goes quack."
The group then belted out the chorus, singing, "Cause I'm a dad. I'm a dad! And I don't go to movies. I'm a dad. I'm a dad. I don't know that song!"
The trio also took dad dancing to a whole new level, with a boyband-inspired routine involving buggies and a short section involving throwing their 'babies' through the air – best not to try that move at home.
To top it off, they then led the audience in a round of kids classic 'The Wheels On The Bus.'
With so many celebs becoming dads at the moment, it might not be long before a real dad band is formed.
McFly's Harry Judd and Tom Fletcher have both had kids in the last few months, along with One Direction star Louis Tomlinson.
Judd has recently shared the first picture of daughter Lola Rose Emma online.
His wife Izzy had struggled to fall pregnant due to a condition called polycystic ovary syndrome.
The picture shows him with his 3-month-old strapped to his front as he sits infront of his drums, poised to play.
The father of one said that little Lola has recently met up with his bandmate's second son Buddy, who was born in February.