The British astronaut has blasted off, heading for the International Space station.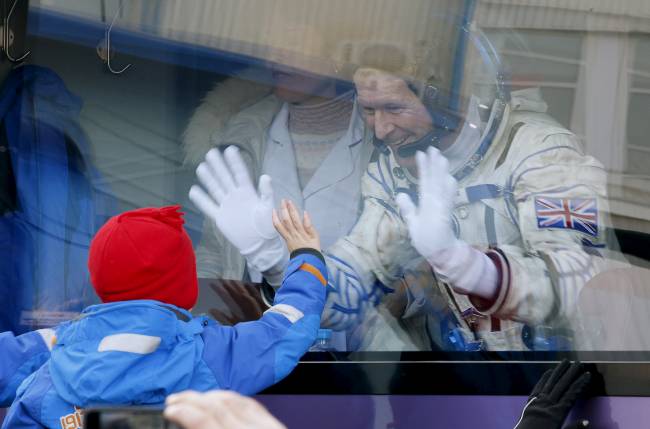 Tim Peake will return to Earth in six months, but it seems that can't come soon enough for his four-year-old son, Oliver.
Sitting on the shoulders of his grandfather, Tim's father-in-law, he cried loudly and said: "I want to go with Daddy."
In the run up to the launch, Peake has been preparing his two young sons for what his mission will involve.
During a press conference earlier this week, the astronaut said his kids had visited him during his training to help them understand what he'd be doing in space.
He added: "I've made sure that we've spoken about the training.
"They've been to see me at Johnson Space Centre, through the Space Station mock-up facilities.
"They've seen where I'm going to eat, where I'm gonna sleep, where I'm gonnause the loo, which is the most exciting part for them."
He also revealed that Christmas had nearly slipped his mind in the hectic run up to the launch from the Baikonur Cosmodrome in Kazakhstan.
Peake said he and the two crew members he will be travelling with had been so busy focused on this mission that "I kind of forgot Christmas was just over a week away."
Tim Peake is not the only person set for a long journey ahead of Christmas.
It's expected that more than 13 million journeys of at least 20 miles will be made on Friday 18 December as people going on holiday mix with shoppers and commuter traffic.
The figure from a survey by the AA represents a rise of about three million journeys on the last Friday before Christmas last year.
Hundreds of rail services are also set to be disrupted by engineering work and thousands of people will take to the sky to visit family and friends.
With this in mind, if you're travelling over the festive period, it's advised you allow extra time to reach your destination.