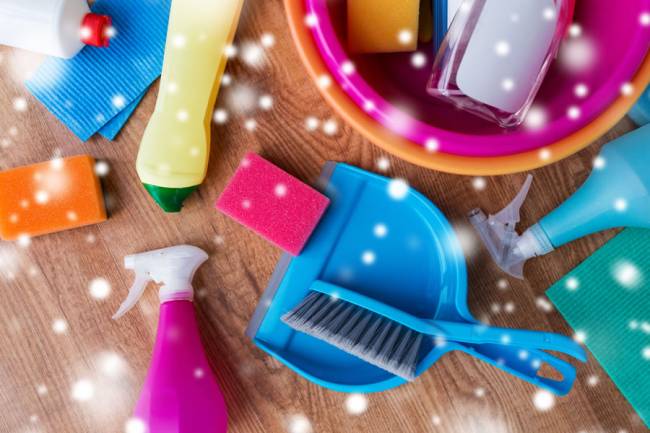 New research from leading kitchen roll brand Regina has found that we do twice the amount of housework at Christmas, just to please our guests.
Even more worryingly, over half of those surveyed (52%) reported that the house is a complete mess again within an hour or less of guests arriving on Christmas day, despite their best attempts to keep things in order.
A fifth (19%) even agreed they ended up continuously cleaning in the lead up to Christmas. It seems that Generation Y especially are putting in the extra hours, with 79% of millennials admitting they are dusting polishing, scrubbing and scraping in the lead up to Christmas more than normal.
But it's not just the pre-Christmas clean that's taking its toll on our festive cheer. Over half of those surveyed (52%) reported that the house is a complete mess again within an hour or less of guests arriving, even after their best attempts to keep things in order.
The survey, which polled 1,000 UK consumers, revealed we are a clean-conscious nation with high expectations. The top things we feel stressed about in the lead up to the festive season are worrying about getting the house ready and keeping it tidy (21%) and making sure Father Christmas has thought of the whole family and shopped for everyone (32%).
Judy Reith, parenting coach and spokesperson for Regina commented, "Christmas is a time for family, friends and fun! It makes me sad to see that so many people are getting caught up in the stress of cleaning and dedicating so much time to this activity.
While it's understandable that people want to make a sparkling impression on guests during the festive season, with a clear plan in place, a positive attitude, and some trustworthy tools like Regina paper towels, the time and energy spent scrubbing and cleaning can be greatly reduced and instead focussed on enjoying family time. The research showed that half of UK residents actually feel guilty about the time they spend cleaning at Christmas, time they could be with the family making happy memories".
To help people feel less frazzled and more festive, Judy has shared her top tips to achieving a sparkly but stress-free Christmas:
Do it, Ditch it or Delegate it
Get everyone to help out. This goes for the cooking, laying the table, clearing up, wrapping presents, looking after mischievous pets and keeping the house tidy enough (not perfect, because no one's is!). It's never too late to stop and list everything you need to do so you can have some time over Christmas to chat to Grandma, play with the kids or have a laugh with friends.
Up the energy levels
Parents can easily run out of steam with late nights, too much food, and entertaining the kids who are up from 5am. In the run up to Christmas get regular fresh air, walk the dog if you have one, drink plenty of water and insist on everyone getting out and about to relieve boredom, arguments and cabin fever.
De-clutter with the kids
Christmas can be a time of far too much of everything! Presents, food, spending money and can even be an overdose of family and friends! And the extra chores, of course. So, encourage the children to clear up and clean out their toy boxes, make a donation to charity and think about others who might have less at this time of year.
Share the load
Many of us have family abroad, making it hard to see them over the Christmas period. When you spend Christmas with your partner or friends, it's important to spread the work out between the group over a few days in the lead up to Christmas day. Why not have a working bee – with festive songs, good food and even better company!
Be a big kid not a humbug!
It's a time of great excitement for children and it should be for adults too. Whether you are a young couple spending Christmas together or welcoming the family home for the holidays we want everyone to look back on Christmases spent together with affection. Don't be a slave to housework and worry about having a magazine perfect home, so you can make more of the moments that matter.
Enjoy
Christmas can be tricky sometimes. Try and keep some blank hours in the diary for being spontaneous to just enjoy your spending time with your family, partner or friends. Have fun, manage the mess but don't go overboard, and treat yourself to some very well-deserved time off too.
Regina Blitz is available to buy from all leading supermarkets as well as independent retailers from £2.50.