"Reading needs to start with the heart, begin by finding what you love".
Dad of 4, Jim Sells works for the National Literacy Trust and has been taking part in their #fitforlit challenge. "I used to be in the army so assault courses are natural to me, there is a competitive streak in the family genes". Married to a teacher, two of Jim's children (15 and 13) live in Scotland with their Mum, while his 3-year-old twins live with him.
When lockdown came it hit Jim's family hard.
Jim normally sees his older girls every fortnight, this year he went nearly six months between visits and when they finally met in June, it was "an emotional reunion". Like many families Jim has had to be creative with digital communication to stay in touch, recording chapters of books on YouTube as well as regular video calls. Jim's older girls have been out of school but are now back and although Jim's daughter "was petrified, even though she is a robust, feisty little girl, she has has been ok". Lockdown has been an unprecedented interruption to children's education and has left parents out on a limb, worried about home educating and concerned their kids are falling behind. Jim knows these feeling first hand but is reassuring, "The greatest gift you can give to your children is that you are their first educator and that doesn't have to be an intimidating thing, because you love them. You want the best for them, you don't have to be a teacher to support your child's reading and you don't have to have books. It's about starting from what you love".
Find the Passion
Jim's experience has taught him that to encourage children to read you need to find their passion. It might be fishing, football or FIFA. As a parent you need to look for opportunities, "If you are sitting playing games grab the magazine with the cheats. Kids too often feel like reading is for other people because Harry Potter, however great it is, isn't relevant to their lives". In Jim's case his older daughter wasn't interested initially in reading, but she is a prankster and very funny so he introduced her to Diary of a Wimpy Kid which hooked her in. Jim's next daughter loves horses and wants to be a vet, so anything about dressage or autobiographies of TV vets works for her. Jim emphasises that first you "find the passion and then find the reading".
School Closures
Lockdown and school closures have brought new challenges. Kids from disadvantaged backgrounds are falling behind, they can be as much as 17 months behind on their attainment as children from more affluent backgrounds. 700000 UK children haven't had access to computers, one in eight children don't have any books in their homes. Reading hasn't been high on family's agendas, poor accommodation, redundancy and other strains on family life as a result of lockdown have left many parents worried how their kids will ever catch up. Jim is reassuring, "The main thing I want to say is please don't worry. We are in a time where taking on additional perceived pressures around education isn't going to help you and your family". However there are huge well-being benefits of reading which Jim would love all children to feel, ""In lockdown everything feels locked down but reading gives you the reminder that there is a world out there and you are part of it and can tap in to it". Research completed by the National Literacy Trust suggests kids have been using lockdown to read and write more. In fact, kids are writing their own poems, fiction and journals- four times more than normal.
Jim's top reading tip:
Jim believes there aren't any kids in the world who don't want to know about Messi or Ronaldo so recommends trying them out on some biographies. "Reading is a means to an end, taking you out of your world and walking in another person's shoes. If you want to be a footballer you can watch as many drills on YouTube as you like but if you read Rio Ferdinand's biography you can really step into his world and imagine it. I interviewed Rio and he said he read biographies because 'I want to know how other players tick' Try it! Reading biographies it is like a cheat".
Try for free – Matt Oldfield's series
Take Part in #FitforLit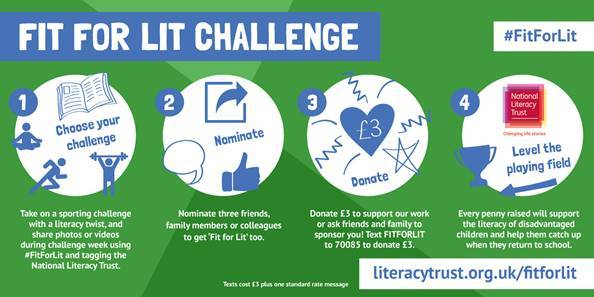 Follow these simple steps to take part in the #FitforLit Challenge:
1. Take on a sporting challenge of your choice with a literary twist
2. Upload your photos or video to social media using the hashtag #FitforLit and tag the National Literacy Trust (@literacy_trust) and Dad Info (@dad_info)
3. Donate £3 by texting FITFORLIT to 70085 (text costs £3 + a standard rate message)
4. Nominate three friends to take on the challenge