It was an exciting day for DAD.info on Saturday, as the winners of the The DADS: Dad of the Year Awards 2015 were announced live at The Baby Show in Birmingham's NEC…
DAD.info readers have been voting for their Dad of the Year, choosing from our short list of 10 amazing fathers, each with an incredible story to tell.
It was a close contest, but Sean O-Grady took first place for his commitment and dedication to his son, Oscar, who had to undergo a series of heart operations as a baby.
Collecting his award on The Baby Show stage from DAD.info's Chief Executive Officer, Chris Muwanguzi, Sean said: "Thank you so much for this award. It's not just for me, but for all the dads here who have had to deal with some difficult situations."
Sean was nominated for the award by a dad whose little boy, Sam, was also having heart treatment at Evelina London Children's Hospital in November last year.
In his nomination, 'Sam's Dad' said: "Sam's illness was one of the most difficult things my wife and I have ever gone through, but we were relatively lucky, as he made a speedy recovery and we were allowed to take him home a week after the operation. But Oscar had to have complicated repeat surgery and was at the hospital for over two months. Having been through something similar, I still find it hard to believe that Sean and his wife managed to stay so positive through it all."
Thankfully, Oscar is now doing great. Sean took the opportunity at the ceremony to pay tribute to his wife, Danni, who was there to see him collect his award.
"This is also for Danni, who spent every night with our son in hospital," Sean told the audience at the Baby Show. "It wasn't just me – she was always there, and never left his side."
Second place in the contest went to Ryan McNulty, nominated by his wife who suffers from anxiety and sickness phobia. She wanted to acknowledge her husband for all he does to help her through the difficult times, and for the love and affection he shows their two-year-old daughter, Olivia.
James Cook, who tragically lost his son Dexter to Sudden Infant Death Syndrome (SIDS) shortly after his first birthday, took third place. Nominated by his wife, Gemma, James was at the NEC to accept his award, saying: "I feel very proud, and it's humbling. Thank you to everyone who voted, and to Gemma for nominating me for the award."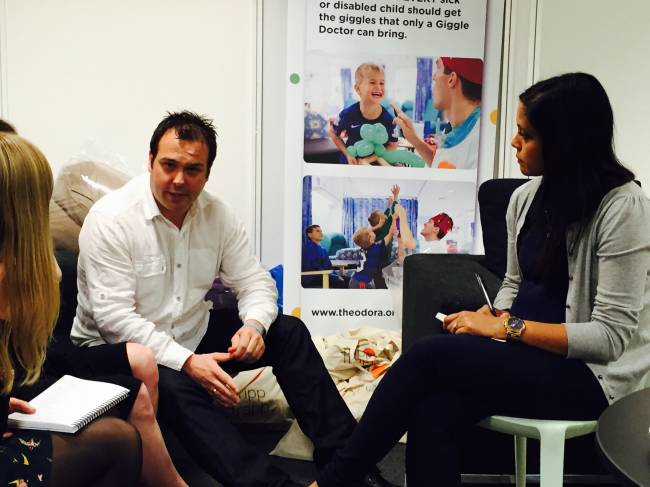 In fourth place was Nick Webb, nominated by his five-year-old daughter in a poem written especially for the awards, which she read out at the ceremony. Nick said: "Thank you so much for this award. I'd also like to thank my daughter for reading her poem out on stage… I'm very proud of her!"
The fifth and final prize was awarded to David Bald, nominated by his daughter who has Down's Syndrome. Her moving poem reveals how much David helps her with her reading, writing and speech, and thanks him for the unconditional love he shows her on a daily basis.
In addition to their awards, each of our five winners received gift vouchers from Red Letter Days.
DAD.info's Chris said after the event: "Congratulations to all of the amazing fathers collecting their well-deserved awards today, and to the many others out there who show such dedication to their families, often under such challenging circumstances. Today has been a true inspiration and incredibly emotional. I'd like to thank everyone who put forward their nominations for the contest, and the readers of DAD.info for voting for our Dad of the Year."
With thanks to Red Letter Days, The Baby Show and DaddyNatal.
Additional reporting: Jay Nadarajah.