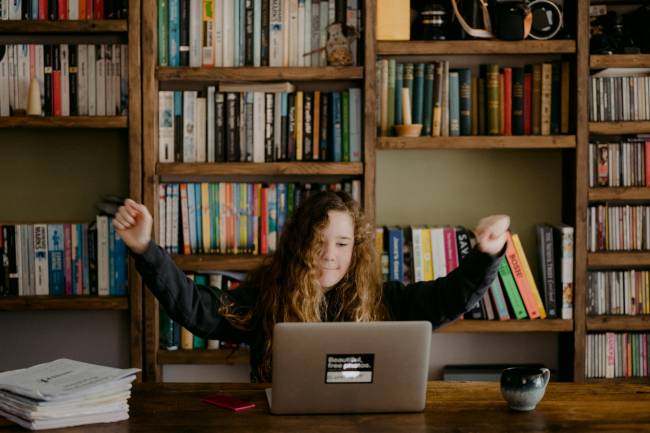 A lot of parents who have had to become makeshift teachers during the lockdown are finding life tough. Struggling through explaining tricky maths to children and battling through tears and tantrums can be exhausting. Thankfully there are free, useful resources available to parents online which can make our lives easier.
Free books
Beloved children's authors are offering free copies of their books online during the current lockdown, as part of an initiative by the Oak National Academy and the National Literacy Trust. At the Virtual School Library kids can access a new book each week to read in full, as well as complete the free corresponding activities.
The first bestselling author to offer her work for free is Jacqueline Wilson, whose most popular children's novel, The Story Of Tracy Beaker, is currently available to read. In addition to a video with the author there is also a number of fun activities to try including designing your own cover, a word search and a spot the difference.
'I'm thrilled to be the first author of the week on the new Virtual School Library from the National Literacy Trust and Oak National Academy', said Jacqueline Wilson. 'I think it's vitally important that every child should have an opportunity to access books. As most schools – and their libraries – are closed at the moment the free online library is needed more than ever'.
Other upcoming titles include Cookie and the Most Annoying Boy in the World, written by Konnie Huq, which explores a girl's passion for science, as well as books from authors such as Jeremy Strong, Jeanne Willis and Tony Ross.
The scheme looks to increase access to ebooks and audiobooks for young readers during school closures and support the literacy of children most adversely affected by Covid.
'While schools are closed for the majority of pupils, the learning and development of children must continue' said Education Secretary Gavin Williamson. 'Reading is hugely beneficial not only for children's literacy skills, but also their mental health and wellbeing. This virtual library is a fantastic resource for children to access a free book every week from a range of wonderful authors.'
Online video teaching resources
Have a breather while a video takes the strain! The BBC has a brilliant free education site, BBC Teach, which offers a huge variety of content that follows the curriculum for both primary and secondary education.
There are thousands of videos available, which make for an easy-to-digest form of learning for kids. The huge amount of subjects covered include art, computing, languages, music, history, science and even PE. Lessons are split into age groups to ensure the videos are appropriate for the curriculum.
If all else fails, put the TV on (no, really!)
Research recently conducted by cable.co.uk found the levels of educational content on each children's channel per day. Nick Jr. has the most learning content at 8 hours and 15 minutes, while CBeebies has 4 hours' worth, and on average CBBC shows around 3.5 hours of educational programming. Kids can also watch shows on apps such as Netflix; 24% of its children's content is educational.