By Ben Akers, Talk Club co-founder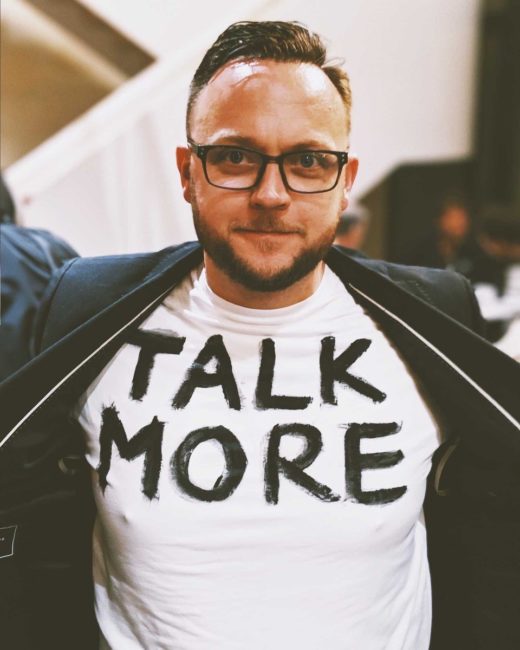 How are you? Out of 10? No seriously, how are you?
Stop for a moment. Think about it. Really ask yourself.
Put a number on how you are feeling right now between 1 and 10- 10 being on top of the world. 1 is rock bottom. 
You can't have 7. (Well you can, because it's your number, but I find is when someone says 7 so quickly they aren't really a 7 they are saying "I'm ok" and not really thinking about it.)
So when someone says 7 to me – I ask are you closer to a 7.1 or 6.9, because that is a decision.
That makes them think. Then I ask "Why?" – that is what Talk Club is all about – helping men.
Many fathers. To open up about how they are feeling. It's just a technique to get you to open up.
So what are you?
I'm an 8 as I write this. Busy summer. Not the most relaxing, but fun. I'm also looking forward to the kids going back to school.
I'm a father of 3. I've got a sensitive 8 year old boy, sandwiched by two strong-willed sisters aged 5 and 11.  I love being a dad. It's hard work. Very hard. But when we had our eldest (we were living in Sydney) I suddenly felt this overwhelming feeling of purpose – of that's why I was put on this planet.
I've never made it easy for myself to be a parent. I now know why people live near the grandparents. My wife and I have only done that for 18 months of our kids childhood. 
We now live in Bristol. It's a great community. The kids have best mates across the road. My house is always busy. But, it's my job to keep the cupboards stocked, both financially and physically. So when I told my wife, 5 years ago, that I wanted to quit big advertising and a stable (good) income to make a film about male mental health, she was a bit taken aback. Let me explain.
The loss of Steve
3 years before that day (May 2014) I had received devastating news that my childhood best friend had taken his own life. Steve and I had been inseparable since we were 11. Born 4 days apart we were brothers by another mother. Our teens and early 20's were full of laughter. Our late 20's and 30's were about careers, and long term girlfriends that lead to marriages and kids. 
We drifted. Like many mates. Family, kids, job, all got in the way. I'd moved to Australia. He'd moved to Canada. The time differences didn't help.  We talked on line. Social media showed he was having a fantastic life.  So I didn't know how mentally ill he really was.
We had both returned to UK and made plans to meet. I was now in Manchester, he was in Margate. He was a big United fan, so I'd got tickets through my new job- tickets we never got to use. I'd only been back for 2 weeks when I got the call.   
It crushed me.
Three years of asking "could I have done more?" & "why didn't he tell me?" Lots tears. Lots of therapy. Lead me to a hammock in France reading a feature in a Sunday supplement that talked about suicide in men. 
The horrific statistics showed that 76% of suicides are male. That a man dies every 2 hours (now every 90 minutes) by his own hand. That it's the biggest killer of men under the age of 50. So statistically the thing most likely to kill me – is me.
But Steve wasn't a number. He was a father. A son. A husband. And a friend…. my friend.  
He was a funny, fun loving, every day bloke. The last I'd have thought would kill himself.
In this same magazine I read that men of my (and Steve's) age watch sport and documentaries.  
So that's when I decided to throw it all in the air and make a film. Try to help the next Steve.
And that was the moment I turned to my wife and told her I needed to do this.  After a lot of talking, she agreed to let me try.
So, I created a small crowd funder and begun.  For a year I travelled the country, talking to amazing people, trying to work out why this epidemic is happening, and most importantly what we can do to stop it. 
In March 2019 we premiered "Steve" in Bristol.
Described by a kind journalist as a "Changeamentry" not a documentary,  it's a positive film about male mental health (watch it here). Real people. Real conversations. And most importantly: real solutions. As I was making it, I began to realise that where I showed this film was almost as important as what was in it. I needed to go to where the men are to make them feel included not patronised.
So that's what we did. We took it on a pub tour.
We did 49 screenings around the country before the Covid lock down. Pubs, sports clubs, gyms, building sites -anywhere men naturally were. From Aberdeen to Falmouth. From Coutts (The Royal Bank) – to a Category B Prison. Each one very different, sparking open conversations. Each one bigger than just the film. I found that pubs are the best. Yeah, I know about the relationship between alcohol and depression. But men are in pubs. And when a man doesn't feel pushed into talking, when he can just sit there, watch the film – while cradling his pint, watching others open up – at the end he might just say….. "Yeah I feel that way too."
But once they are ready to open up, what then?
This was the moment that changed my life. Where I could make a real difference. Turning mental health qwareness into mental health action. Talk Club was born.
It was founded with 5 other people from the film. It's a positive talking and listening community for men to open up, be vulnerable and get mentally fit. All by asking "How are you? Out of 10?"
Everyone's numbers different, personal to them. One man's 5 could be another man's 7.
It's just a technique. A way to own your mental state. But it works.
In 4 years since our creation we now have 72 clubs around the world.  All safe spaces to open up, to be honest and vulnerable. We've also created Talk & Exercise groups, such as Talk & Run, Talk & Football, Talk & Rugby and Talk & Skate. And we've also created Talk Club therapy. So, like a gym, no matter your mental health week can help you get mentally fit. And if you get mentally injured. We can help with that as well.
I think our success has been our simplicity and talking to men on their level. Being where men are. Where they feel comfortable.
From creating a non-alcoholic beer called "Clearhead" and a coffee to get men talking (Talk Club 10 – take 10 minutes out and ask a friend (or yourself) – How are you? Out of 10?) to partnerships with Liam Gallagher and Tyson Fury, (both Liam and Tyson released singles for us) to show your heroes want to be mentally fit as well. In fact, Liam took over our Twitter for an hour and told his fans how he looks after himself. Because no matter who you are, if you are mentally fit, you will be mentally strong and if your mentally strong you are less likely to become mentally ill and less likely to take your own life. 
My next project "OurkidsOurlives" is a new documentary looking at the mental health of kids.
You can watch the trailer here.
Talk Club is about prevention. And suicide is the biggest killer of males 9-50. So what if we could help the next generation by getting them to open up. By enabling us fathers with the understanding and almost the permission to ask their kids How are you? Out of 10?  – we are aiming to create Talk Youth, which allows kids to take control of their own mental fitness, with support from their parents- especially their dads.
I hope my story has inspired you to look after yourself.
You don't need to be broken to be fixed. You can look after your mental fitness now. Like the gym you might go to get fit, but you keep going to keep fit.  You can be mentally strong but talking about what is worrying you.
You need it to be a strong father, a strong partner, a strong colleague and friend.
So please join us at TalkClub.org.
I believe if Talk Club had existed 10 years ago Steve would still be with us and I wouldn't be writing this, but it wasn't. And I can't go back. I can only go forward. I can only try to help the next Steve. So, how are you? Out of 10?
Find out about screenings of "OurkidsOurlives" at @OurkidsOurlives on socials.
Find Talk Club on Twitter and Instagram @TalkClubCharity