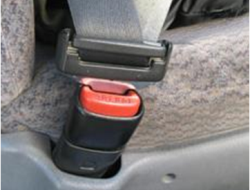 CHILD CAR SEAT SAFETY
Without doubt, a car seat may be the most important product you ever purchase for your child.
The law in the UK requires all children travelling in the front or rear seat of any car, van or goods vehicle to use an appropriate child car seat until they are either 135 cm in height or 12 years old (which ever they reach first).
This means that as a dad, it is likely that buying a car seat will be on your to-do list a couple of times during your time as a parent.
So what do you need to know?
Firstly, before purchasing a car seat, you need to ensure you are getting the right type of seat for your child's age AND size. There is a good guide here http://www.childcarseats.org.uk/types-of-seat/
Secondly, it is always recommended to always buy your car seat from new – so that you know it has not been involved in any kind of accident previously. A car seat could become structurally weakened in an accident (even if a child was not in it at the time), and unless you know the precise history of the seat, you cannot be sure it offers your child maximum protection.
Thirdly, check the seat you want fits your car. Don't just buy one from the internet, go and have a professional check that it safely fits. Shocking studies have shown that the vast majority of car sears are incorrectly fitted – specialist fitting centres do exist and you can find out more here http://incarsafetycentre.co.uk/ Your car seat must be properly fitted in order to ensure that your baby is as safe as they can be in it. Also, be aware that just because some marketing says their seat will fit any car, this does not mean that it does. So every time you change car seats get a professional to check it does fit your car (or cars if you have more than one which are different from each other) properly and to show you how to make sure it is as safely fitted as it can be.
Baby Car Seats
'i-Size' is the name of new EU safety regulation for child car seats which made the headlines when it was introduced in July 2013. It aims to increase the level of safety which infant car seats offer the babies and toddlers who travel in them.
Currently, all infant car seats (including the alternative baby car seats to i-Size, the Group 0 and Group 0+ seats) are required to adhere to ECE R44/04 standards. These were established in the early 1980's, but a lot has changed since then in terms of the cars we drive and our understanding of what happens in a car accident.
i-Size is a higher standard of testing car seats, therefore offering a baby increased safety in a number of ways:
Car seats use ISOFIX rather than seat belts to make them easier to fit securely
Car seats must provide better side-impact protection
Car seats keep babies rear facing until they are 15 months old
i-Size testing also makes use of the latest test dummy sensory technology, designed to more accurately simulate a child's fragile body
At the moment in the UK you have a choice about which car seat you use for your baby – a Group 0 or Group 0+ which meets the ECE R44/04 standards set in the 1980s, or an i-Size seat which meets the more robust i-Size standards. You will continue to have this choice until around 2018 (so you don't have to replace any existing car seats right away), when i-Size will become the car seat safety standard.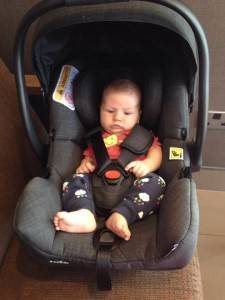 Why has i-Size been introduced?
Babies and children are not mini versions of adults – their bodies and bones are different and need much more protection from the forces in a crash. Travelling rear facing is the safest way for a child to travel and there is a small range of 'extended' rear facing car seats on the UK market which facilitate this for children up to the age of 4 years. In Sweden, where rear facing for children is the norm and they travel this way until 4/5 years, there is a noticeable lower fatality ratio for children in car accidents than we have in the UK.
So how are babies different? Firstly, their skeleton has not yet been solidified into bone, but is still soft, mainly consisting of cartilage. In adults, our rigid and strong rib cage protects our vital organs, including the heart and lungs. In a child, their ribs are not yet strong enough to do this, which in the event of a forward facing impact, can mean serious internal organ damage.
In addition, a child's head is 25% of their body weight, so in a collision where they are forward facing and thus propelled forwards, this therefore puts significant strain on the developing neck and spine, causing potentially devastating serious injuries.
Toddlers and older children
At some point you will need move your child into a forward facing car seat (although do note that you can easily keep them in a safer rear facing seat until they reach 4 years) and when you do so, there are several options of high backed booster seats available for you to choose. These seats raise your child's seating position so that the cars seat belt fits them properly, and they also have side wings that help to protect your child's head in an impact.
Although booster seats with no back (also known as booster cushions) are also available to purchase, it is important to understand the implications of using these, as they offer the very minimum of protection. Boosters with no back or sides mean that there is also no side or head protection given, leaving the child, no matter their age, vulnerable to head and side injuries, particularly in side impacts.
Under the new rules expected to come into force in the UK, backless booster seats will only be approved for use for children taller than 125cm and weighing more than 22kg. At the moment, children weighing as little as 15kg (around three years old), can travel in backless booster seats. However, many child car seat experts agree that this type of booster seat is unsuitable for such young children, as it doesn't hold them as securely in the seat, the seat belt is not held across their body correctly, and it offers no protection if your car's involved in a side-impact crash.
Check your insurance!
The Royal Society for the Prevention of Accidents state: 'It is RoSPA's advice that a child car seat that was in a car that has been involved in an accident should be replaced, even if there is no visible damage'. Some insurers are a lot more family-friendly than others, so to make sure your car seats are covered, check the small print to see what their policy is on replacing them after an accident, and if their maximum compensation will actually cover the cost of your seats (especially if you have more than one child). Every time you renew your policy or have another child, check the terms of your insurance policy regarding car seats to be sure you are covered.
Useful links
http://www.childcarseats.org.uk