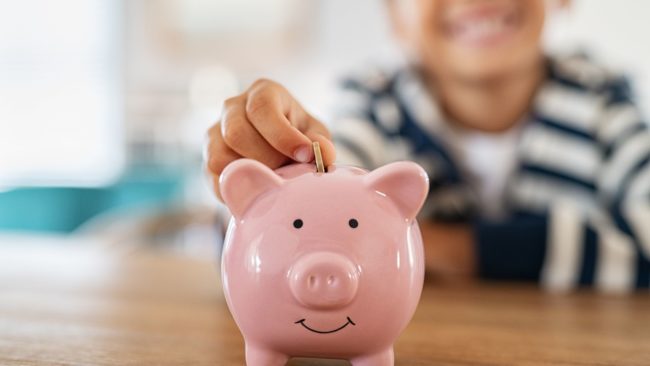 You might wonder what the benefit is of having a bank account or prepaid bank card for an under-16 year old. You can just give them a couple of quid a week for a Kinder egg and a magazine, right? Well yes, you can, and that works too. But, the new funky accounts available for kids deliver that and more. Not only to they offer the chance for kids to set up a tracker to save up for a desired item, but you can also reward extra cash to them for helping with jobs around the house or being well behaved.
Plus, learning to manage money is an important skill for life, and having their own bank card is a good incentive to take it seriously, like grown-ups.
There are an array of options on offer for kids, so we took a look at some of the most popular to check out the pros and cons.
Go Henry
Go Henry is a prepaid kid's card, and a popular choice as it's easy to use. It also offers the opportunity to customise the design of your child's card- however, there is an extra cost. The Go Henry app clearly shows both parent and child what money has been spent and where. Plus, you can instantly send money to their card if and when they need it. You can also set controls to prevent spending going out of control.
There are also money-management lessons available in the app. These educate kids on everything from budgeting to investing, and you can reward your child for taking part.
Parents can also set tasks that must be done to receive pocket money- whether that be homework, tidying their room or helping out at home.
The downsides to Go Henry is that is costs parents £2.99 a month after the free trial period. It's important to note also that parents are charged per balance top up (there is one free top up a month).
Rooster by NatWest
Rooster is NatWest's banking offering for kids aged 6-17. Like Go Henry, parents can set financial rewards for completing chores and tasks, and you can control their spending limits. You can also decide where they can spend their money, either in stores, online or by getting cash out.
One downside is that it costs £4.99 for the funkier card designs, but there are free options to choose from.
There's no risk of going overdrawn and you can see what your child spends in real time on the app. You can also freeze the card instantly if it goes missing.
Others can add spending money to the Rooster card too- so if Granny wants to give your child a tenner on their card, she can.
The Rooster card costs £1.99 a month.
Starling Kite
Kite by Starling Bank is a space in the parent's bank account for the child to use, with their own bank card. A major benefit is that the money in the account is covered by the Financial Services Compensation Scheme.
Like Rooster and Go Henry, you can keep track of your child's spending habits and block any type of transactions you don't want them to make. Kite is available for kids aged 6-16 and can be set up easily in minutes. Kids get their own version of the app so they can track their spending, and save for goals.
A major benefit of Kite is that there is no charge for transferring money for your child to use. Plus you can set daily spending limits so they don't go too mad at the sweet shop after school! Family and friends can also send money to the child's card as well. Kite costs £2 per month.