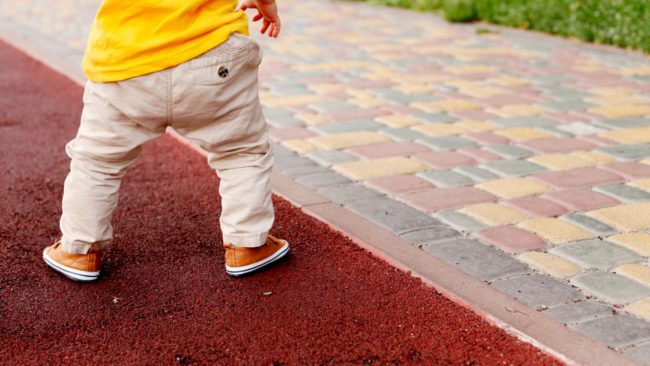 By Chris at Dadology
Watching your baby's first steps is a truly incredible experience and one of many milestones they will hit in their first two years of life.
Between 4 and 15 months, you can expect your baby to go from learning how to sit up to strutting their stuff around the house on their own.
Toddlers take their time!
I felt a bit anxious as on my son's first birthday as any attempt at walking was nowhere to be seen. Our friends' children were already taking their first steps.
An important lesson I learned was that not all babies will hit this milestone at the same time. Some are slower and others are faster, and most babies won't be fully walking until closer to 15 months.
I tried to encourage my son as much as I could when he took his first steps toward becoming a little more grown-up, even though his little attitude suggested he was already older than his actual age.
Here are my top 5 tips for helping you encourage your child to start walking on his own two feet.
Assist your child in pulling themselves up
I regularly helped pull my son up into a standing position. This helped strengthen his leg muscles and build his confidence. They will usually graduate to pieces of furniture like your sofa or coffee table, and climbing all over you!
His confidence built quickly, even after a few little setbacks. It was great to see that little face appear in my eye line with a cheeky smile on his face.
Walking with some fatherly help
Once your baby has practised pulling up, their confidence will grow, and they will immediately start attempting to walk. Unfortunately, if you don't give them a helping hand, they will often end up back on the floor again, with a bump. I made sure to clock the miles up around the house with my son, getting our steps in daily.
Practice walking with your baby hand in hand, supporting their weight. This will help get your baby used to the idea of movement while standing.
Encourage couch surfing
My little boy developed into quite the furniture cruiser. It quickly became his preferred method of getting around on two feet. His mobility had improved at this point, and he was running faster than I could catch him.
This caused some minor falls. I made sure the furniture was secure and the area was babyproofed so that he would be safe on his journey from sofa to coffee table.
Concentrate on standing solo
Solo standing is great for balance. Once your little ones' balance is at a point where they can stand there for a few seconds, then their first step is not too far away.
Celebrate those first steps
Make sure to make a big deal about your little one strutting their stuff. As I write this, my boy has taken around 15 steps on his own, and I have cheered every single one. When your child has been crawling around for the last 4 months, it's weird watching them walk, but truly an amazing sight.
Don't put too much pressure on your child. They'll get there in time, and it's up to you to pick them up and encourage them to try again.
This article was written by Dadology.