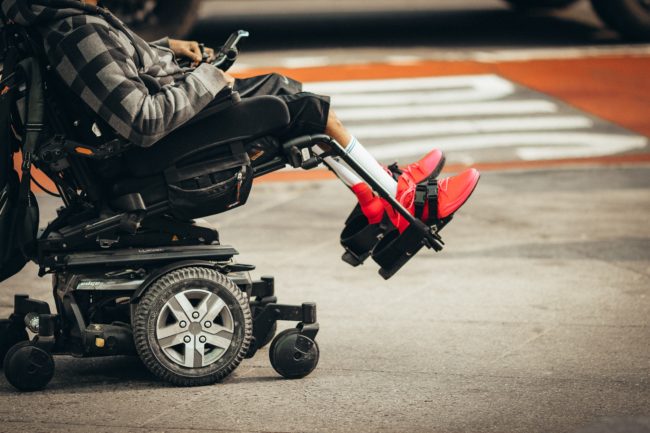 There are 1.7 million disabled parents in the UK- roughly 2% of the population.
We spoke to two disabled fathers about life as a disabled parent- both the joy and the challenges.
'I have to adapt to my limitations'
David Bishop, a head of IT, was diagnosed with an aggressive form of Multiple Sclerosis in 2007, when he was 25. MS is an incurable condition where your immune system attacks the lining of your nerves, making signals from your brain not get through as easily, or get lost completely. It keeps getting worse, as it does more damage over time.
'Everyone with MS is affected differently,' says David, 'but my main symptoms are being exhausted all the time and I can't walk any more, so use a wheelchair full-time'.
David's daughter is nearly 4 years old. 'I was so happy and excited to become a dad,' he says. 'My MS wasn't as bad back then, so I could get more stuck in. It's still great though.'
'Becoming disabled was the best mistake I ever made'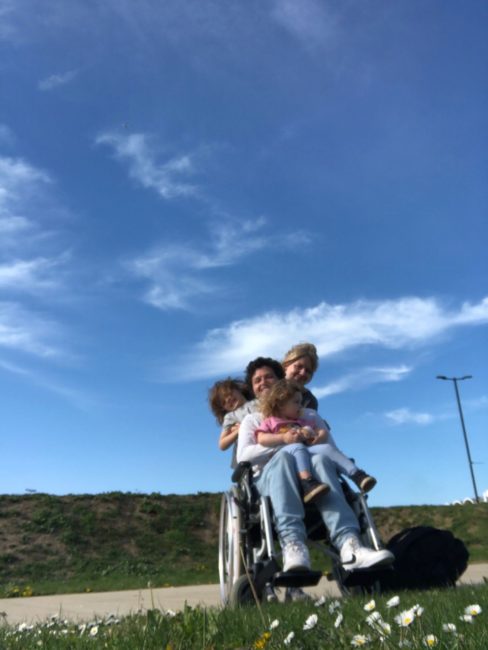 Joshua Robertson became disabled in a quad bike accident at age 11, is dad to two kids and works as a stand up comedian. He talks about being a parent with nothing but feelings of happiness.
'My son is at the age where he likes to wrestle, so I get on the floor and wrestle with him as much as I can,' he says. 'My daughter is a little tomboy. I think people build up being a parent so much and I was so scared of making a mistake, but if you let it flow it's just easy.'
The challenges of being a disabled dad
Naturally, for dads who are disabled, there can be limitations to what they can do as a parent. 'I'm often too tired to give her a bath or put her to bed,' David says. 'I can't kick a ball with her in the park or other physical stuff like that. I have to adapt to my limitations and that can be easier sometimes than others.
It's exhausting. Every parent feels like that but its turned up to 11 with MS. My wife is really understanding, which helps massively, but I still feel down about it sometimes. Because MS is progressive, you know the future is only going to get harder. I try not to think about it and make the most of now.'
Joshua finds it hard when his kids need comforting. 'Sometimes they'll reach up to my arms to me which is heartbreaking. The other day my daughter asked me to open a bag of chips for her but I can't use my hands so well. But I thought to myself I'm going to do this for my daughter, and I was able to push the bag of chips on to the floor and open them with my feet. My daughter was happy with that. In my family we often find ways around things. It might not be done the way you want it done, but let's try another way.'
'Daddy's in a wheelchair'
Disabled parents often find themselves facing negative attitudes from others about their decision to have a child. There are also daily difficulties with challenges everywhere they go, from many places being inaccessible to coming across paths with no dropped kerb. Public transport requires lift access, many places to visit have stairs, and some sports are impossible to take part in.
Another difficulty is when children don't fully understand what their parents are living with.
As David says: 'Daddy's in a wheelchair. It's normal to my daughter. Sometimes she'll ask me to hold her hand and walk with her. She's trying to be encouraging but I just have to say I can't. She's a bit too young to properly understand it. We just get on with life but I'd always be happy to answer her questions, when she has them.'
Joshua has found that his kids find a sense of fun in his disability. 'My son rides on my wheelchair and even drives it sometimes,' he says. 'Their understanding is so much more than you might think. They've always known me having a disability and I honestly believe that me being disabled has made my kids more aware of other people.'
Joshua Robertson is performing at the Comedy Store on September 22nd. His website can be found here.