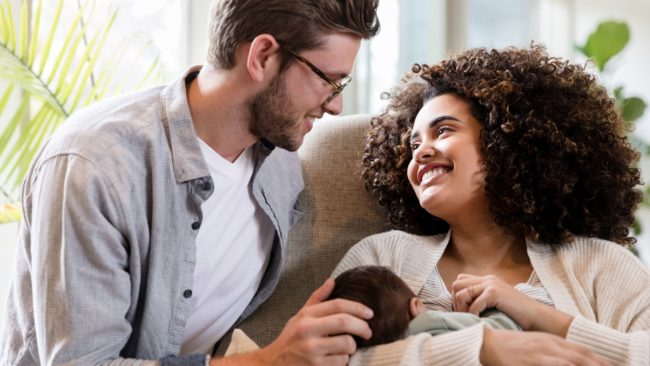 When your baby is born it can feel as though you're not as important as your partner; after all, she's the one who carried the baby, gave birth, and may also be breastfeeding. Dads can feel almost like a spare part.
However, your involvement in everything regarding your baby is vital and important, and baby needs you as much as their mum. While it may seem that breastfeeding is one area of parenting that shuts you out, it's not the case when you know how.
This week is World Breastfeeding Week, so we asked an expert how dads can get involved.
So, what is a father's role in breastfeeding?
Victoria Evans, Antenatal and Infant Feeding Lead at Spurgeons gave us the following tips for how dads can support and get involved in breastfeeding:
Discuss your preferred feeding method prior to birth with your partner
You may wish, for example, to only breastfeed, or mix it up with occasional bottle feeds (and parents may also choose to bottle feed entirely).
Read about and research breastfeeding, or attend an antenatal class/ breastfeeding class together
It takes roughly 4 weeks for the mother's body and baby to work together to establish breastfeeding and during this time there will be lots of changes – baby's stomach size, lengths of feeds, times between feeds, the physical feel of the breasts – if you don't know what is 'normal' you may find that it is hard to build confidence.
You can also read up on breastfeeding research, such as the long term benefits of breastfeeding and find out about breastfeeding positions ahead of time. The more knowledge the better!
Know how to access your local support – be that 1:1, telephone or group based
Groups are great for ongoing generic feeding support as well for specific issues, for example, changes in feeding as baby gets older, introducing solids, or preparing to go back to work.
Offer encouragement and praise
Trying to establish breastfeeding after 9 months of growing a baby and then needing to birth baby is a challenge and is likely to be the most exhausting time. Knowing the signs to look for that baby is feeding correctly is vital. Parents can access this info via their Midwife/ Health Visitor/ Infant Feeding Worker. There is also a breastfeeding assessment in your baby's red book (page 8) as well as the leaflet 'Off to the best start' which is really clear and concise and available here: Off to the best start leaflet – Baby Friendly Initiative (unicef.org.uk).
Help your partner to eat and drink
You could hold the baby, prepare food, and ask visitors to bring food too (they're the best kind of visitors!).
Express milk for 'dad feeds'
If your partner is happy to express milk, then you can bottle feed the breastmilk to your baby. This enables you to bond further with your little one and get hands-on with the feeding.
Support your partner with resting between feeds
You can help with cooking, cleaning, or cuddling baby, as well as enabling her to sleep.
Plan ahead
If breastfeeding solely is your aim, try to avoid introducing bottle feeding in the early days/weeks as it can disrupt the breastmilk supply.
New comfortable breastfeeding sites around the country
Breastfeeding parents will be pleased to know that there are now designated feeding rooms in various locations around the country. Breastpump brand Fraupow have opened 12 new feeding rooms where parents can breastfeed comfortably in private, offering free breast pads, bottle warmers, feeding cushions and a QR code to access a free midwife service.
The locations are:
Junction 32, Yorkshire
St Davids, Cardiff
Trinity, Leeds
White Rose, Leeds
Bluewater, Kent
O2, London
Gunwharf Quays, Portsmouth
The Galleria, Hertfordshire
Braintree Village, Essex
Westgate, Oxford
Clarks Village, Somerset
Southside, Wandsworth.
Want to talk to other dads? Come and join our friendly forum.