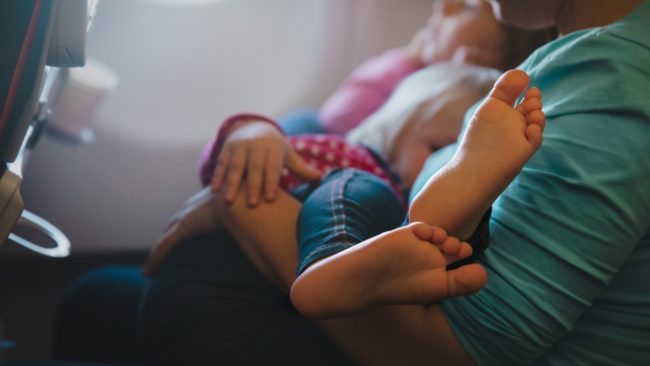 If the thought of a long trip with a wailing baby or screeching toddler sends shivers down your spine, you're not the only one.
The truth is that holidaying with kids is never as blissfully peaceful as those days when you'd go away as a couple (ah, such sweet memories). However, that doesn't mean that your holiday need be a nightmare, either. Here's how to get through your trip with less stress and enjoy yourselves:
Pack things that will keep everything calm
So, think nappies, wipes, changing mat, a change of clothes for accidents, a jumper or blanket for keeping warm on the plane, and a dummy if they use one. You may also wish to take a second dummy in a sterilised box in case one falls on the floor.
Also be sure to take plenty of snacks and drinks, plus toys and entertainment- perhaps plasticine and colouring books for a toddler.
Don't forget the essentials for your destination
You'll need a buggy/ baby carrier or sling, plus a travel cot arranged ready. You might also want to take stick-up blackout blinds so that your little one can sleep well and keep their routine. You'll also need a travel steriliser if still bottle feeding, plus sun cream and a few first aid supplies. Also keep in mind the need for a car seat during your trip.
Take your time
Rushing to the airport can make the whole journey far more chaotic- be sure to leave in plenty of time.
Keep little one's essentials in your hand luggage
The last thing you want is to be 15,000 feet in the air and realise the nappy changing gear is in the suitcase.
Consider timing your journey
You may prefer to travel overnight so that your little one sleeps on the journey, or leave extra early so that they can get to bed on time when you reach your destination.
Travel outside of the school holidays
While your kids are younger than school age, you can save a lot of money and hassle by travelling during the school year. Flights are less crowded, too.
Aim to keep their nap schedule
An overtired small child will result in misery for the whole family. While it may seem limiting, aim to keep their naps somewhat on track.
Arm yourself with an array of entertainment options
If the thought of travelling with a wriggly, niggly toddler fills you with dread then put together a bag of fun for the journey. This might include sticker books, magazines, colouring, or a movie to watch on the tablet. You can also take some bendy pipe cleaners to play with, their favourite cuddly toy or a couple of their favourite books.
Introduce sleep time on the journey
If you're on a long flight and your little one needs rest, approach it similarly to home. So, turn off any screens, change them into their pyjamas, read them a story and say it's time to sleep. Avoid interacting with them after that point, same as you would at home. It may not work completely as trying to sleep during a journey is so unusual, but the above tips will provide more chance that your little one will rest.