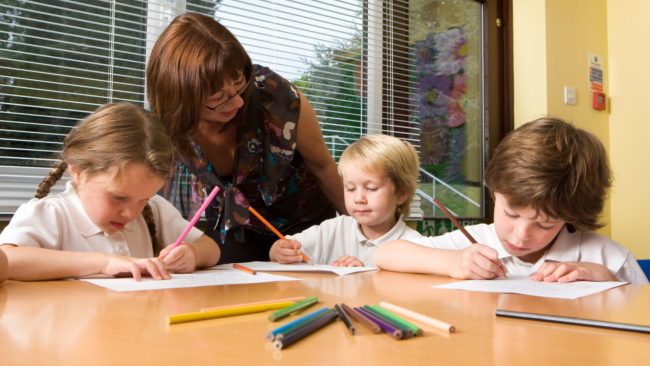 If your child is starting school next week, they might be feeling a little nervous. Rest assured that this is normal, and with the right support from yourself and the school your little one will soon be enjoying school.
What happens in the first few days?
The first days of reception are generally very easy-going and low-key. This helps the children feel that school is a comfortable and nice place to be!
The focus of the teacher and teaching assistants will be getting to know the children and introducing them to school routines. Plus, the children will get to know each other too.
Your child might be clingy at first and not be keen on going in each morning. This is normal and the teachers will be experienced in helping nervous little ones leave their parents and become distracted by what's happening in the classroom.
Some schools purposely offer parents the chance to enter the reception classroom each morning to settle their children before leaving. This gives children the chance to proudly show off their personalised coat pegs! Plus, parents being a (temporary) part of the classroom can help them feel more at home there.
Your child might be allowed to take a favourite cuddly toy to school with them- but they may have to leave it in a tray while they take part in the day's activities.
Fun and games
In general, reception class is all about learning through play. Many schools have 'forest school' days, and outdoor play areas involving water play and learning toys.
In the first few days and weeks, it's likely that they'll play games to get to know each other. If they are shy the teacher will likely pick up on this and encourage them gently over time to join in.
Introducing themselves
The teacher will want to get to know your child and activities might be based around their likes and dislikes. Some schools may have asked children to fill out 'about me' forms during the holidays to bring in on the first day of term.
'Show and tell' is another way that children can start to grow confidence and get to know their classmates. If your child's class does 'show and tell' sessions then your child might wish to take in a special object that they can talk about.
Daily routines and rules
The first few weeks will also be about the children understanding and remembering the rules of school life. This might include daily assembly, break times, how to ask to go to the toilet, and when to be quiet. Teachers will know that children might take a few weeks to get their heads around the rules, and that toilet-related accidents may happen!
How to help your child feel excited about starting school
In the days leading up to starting school you can help your child get excited by the idea. You could take them to choose a pencil case for school and the items to go in it, or let them choose a new water bottle or lunch box.
You can also help by talking about school in a positive, excited way with them, e.g. 'you're going to have so many new friends!, or 'you'll be having so much fun everyday'. They could also try on their new uniform- be sure to tell them they look smart!